A Passive-House Design in Spain Without a Drop of Paint
Architects Paloma Hernaiz and Jaime Oliver, cofounders and directors of OHLab, believe that a building is only as attractive as it is sustainable. "If you know it's polluting the environment, it probably won't appeal to you," Oliver argued. Climate change has changed our perspective. Glass curtain walls, for example, have lost some of their allure. "Today, if you see a building that's entirely glazed, it's not as nice aesthetically because you should know it doesn't work well," he says. By that measure alone, Paseo Mallorca 15, an apartment building the firm designed in Palma, on the Spanish island of Mallorca, is a stunner: Covered in pine shutters, it relies on passive heating and cooling techniques and consumes little energy.
Hernaiz and Oliver, who are married, met in New York while earning their masters' degrees at Columbia University Graduate School of Architecture, Planning and Preservation and later worked together at OMA in China. They founded OHLab (the O and H pulled from their last names) in Shanghai in 2007 but have since moved back to their native Spain and are now based in Mallorca, where Oliver grew up. In 2016, they completed their first passive-house project, Casa MM in Palma. "They haven't turned on the heating or AC," Hernaiz notes. "It was a breakthrough for us because we realized how easy it is to achieve." Soon after, she and Oliver won a competition for the apartment building in central Palma. They have been building energy-efficient dwellings ever since.
A Sustainable, Passive-House Design by OHLab
The developer asked for an iconic design befitting the prime location beside the tree-lined Riera canal. "He also requested something that would represent the values ​​of the 21st century in terms of society and architecture," Oliver says. He and Hernaiz argued that a passive house structure would do just that. As glass curtain walls were the image of modernity in the 20th century, maybe sunshades would be a hallmark of the 21st.
OHLab worked within the limited parameters of a trapezoidal lot and urban planning codes. The 38,000-square-foot building faces three streets: two narrow, quiet ones and the larger, noisier Passeig de Mallorca, which offers the best light and views. This setup determined the layout of the 10 units, with living areas facing the main road and bedrooms in the back. Each street also has different zoning regarding height limits, which resulted in Paseo Mallorca 15 having a zigzag roof line of four, six, and eight stories.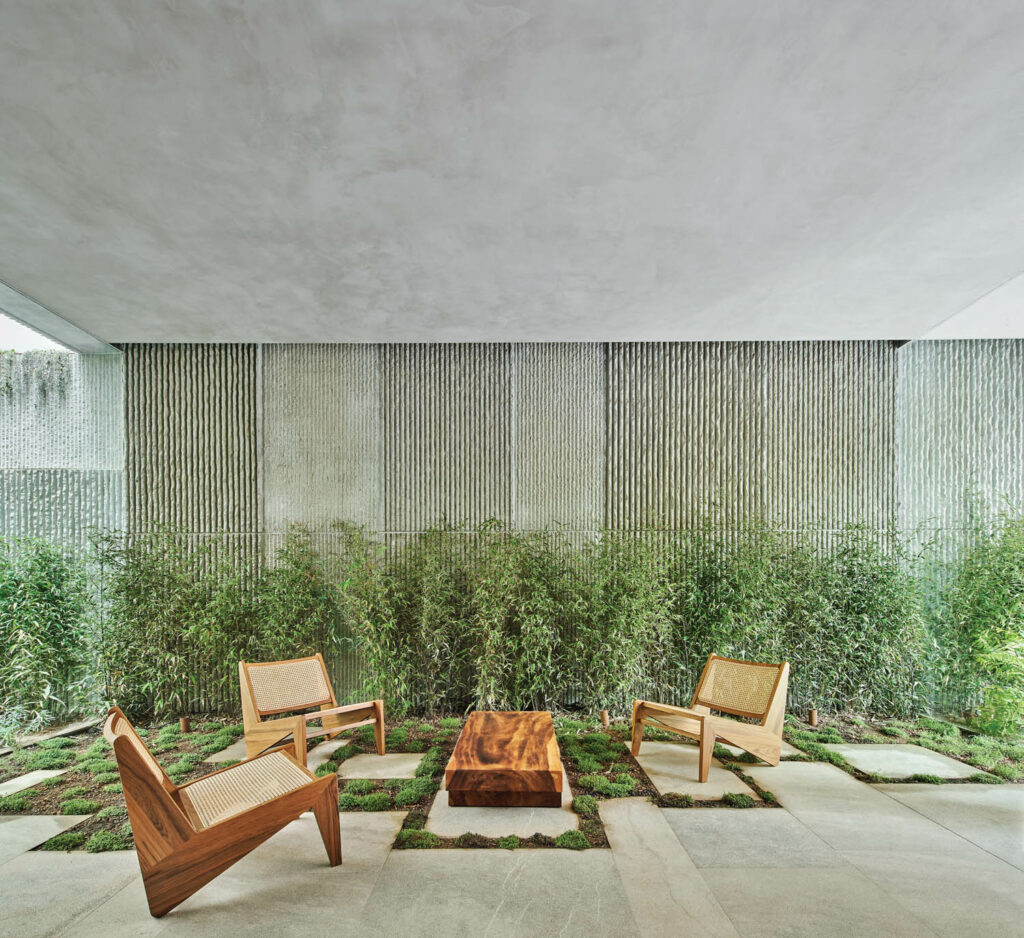 A Home That Heats and Cools Itself
Hernaiz, Oliver, and their team gave the back of the building a façade of prefabricated concrete panels and covered the southern side in movable thermo-treated pine slats that act as a solar filter. Residents can adjust them manually from their balconies, closing them in summer and opening them in winter. OHLab incorporated panels of four different depths to account for the wood's natural irregularity and aging, "So it won't look like a mistake," Oliver explains. At night, the building glows like a paper lantern.
The design draws on vernacular Mallorcan architecture, such as Mediterranean pergolas and shutters, and uses such traditional techniques as cross-ventilation to keep rooms cool. "These are basic principles that were lost during the last century, but it's a much smarter way to build," Hernaiz says. A heat recovery system moderates the temperature and circulates fresh air, insulation is nearly 10 inches thick, and the structure is airtight. Although the building has heating and air conditioning, Hernaiz and Oliver hope residents won't have to turn them on. The result is a heating and cooling energy demand of 15 kWh per square meter per year, which is not only in line with Passivhaus standards but also a 90 percent less demand than a conventional building.
The Apartment Building Features Local Plants and an Indoor Spa
Upon entering, visitors pass a green wall of Spanish cane, a perennial plant that was abundant along the canal during Oliver's childhood. "It's an homage to that local vegetation," he says. The passage leads to an inner courtyard with a waterfall that refreshes the water and brings natural light to an indoor pool and spa on the lower level. Upstairs, there are no more than two residences per floor; a penthouse triplex, its interiors also by OHLab, tops out the structure.
The architects considered the carbon footprint of all materials and sourced as much as possible from the island. The stone for sinks and countertops comes from a quarry in nearby Binissalem; traditional Mallorcan lime mortar coats walls and ceilings and regulates humidity. "It has a beautiful patina and a clean smell," Oliver says. "You can feel when there are no chemicals, paints or varnishes. He and Hernaiz also favored timber, which doesn't come from Mallorca but has a smaller carbon footprint than processed materials like steel.
In the 5,000-square-foot, five-bedroom penthouse, OHLab incorporated oak flooring, French walnut paneling, and cedar closets, and sourced handmade wooden seating from a local manufacturer. Even some of the light fixtures are made on the island, like the hand-blown-glass pendants from Gordiola, the 300-year-old factory that's about 20 minutes away from the apartment building.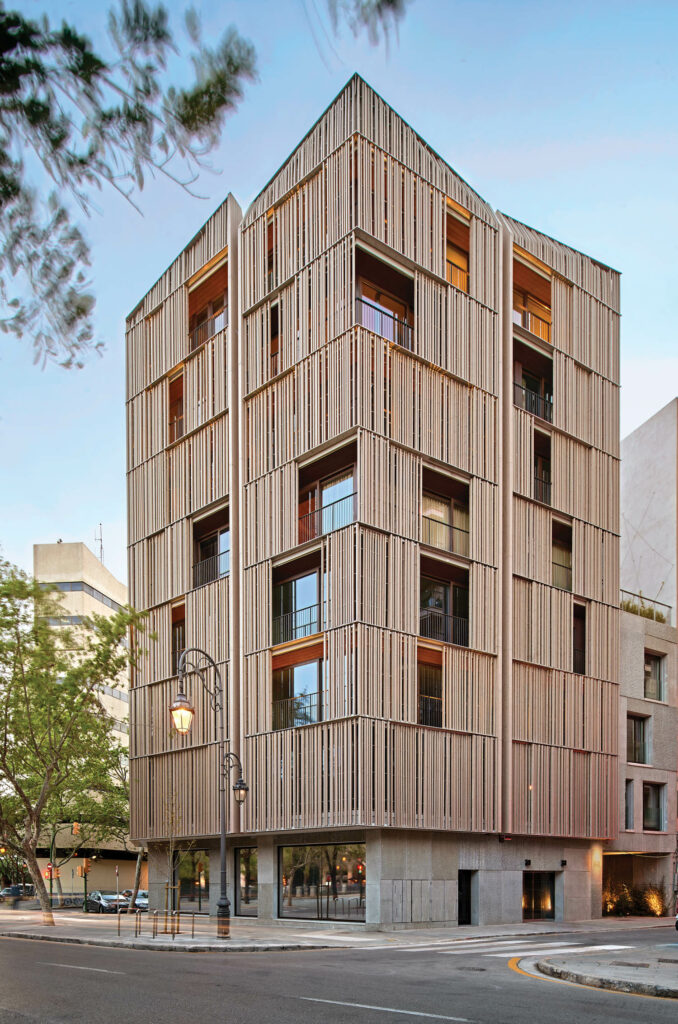 "For us, sustainability is not just an add-on," Hernaiz states. "It is embedded in our design decisions." Each environmentally responsible choice contributes to a cohesion that extends from the facade to the bedrooms. It proves that a contemporary urban high-rise can be beautiful, rooted in its landscape, and respect the world at large.
Behind the Sustainable Design of Paseo Mallorca 15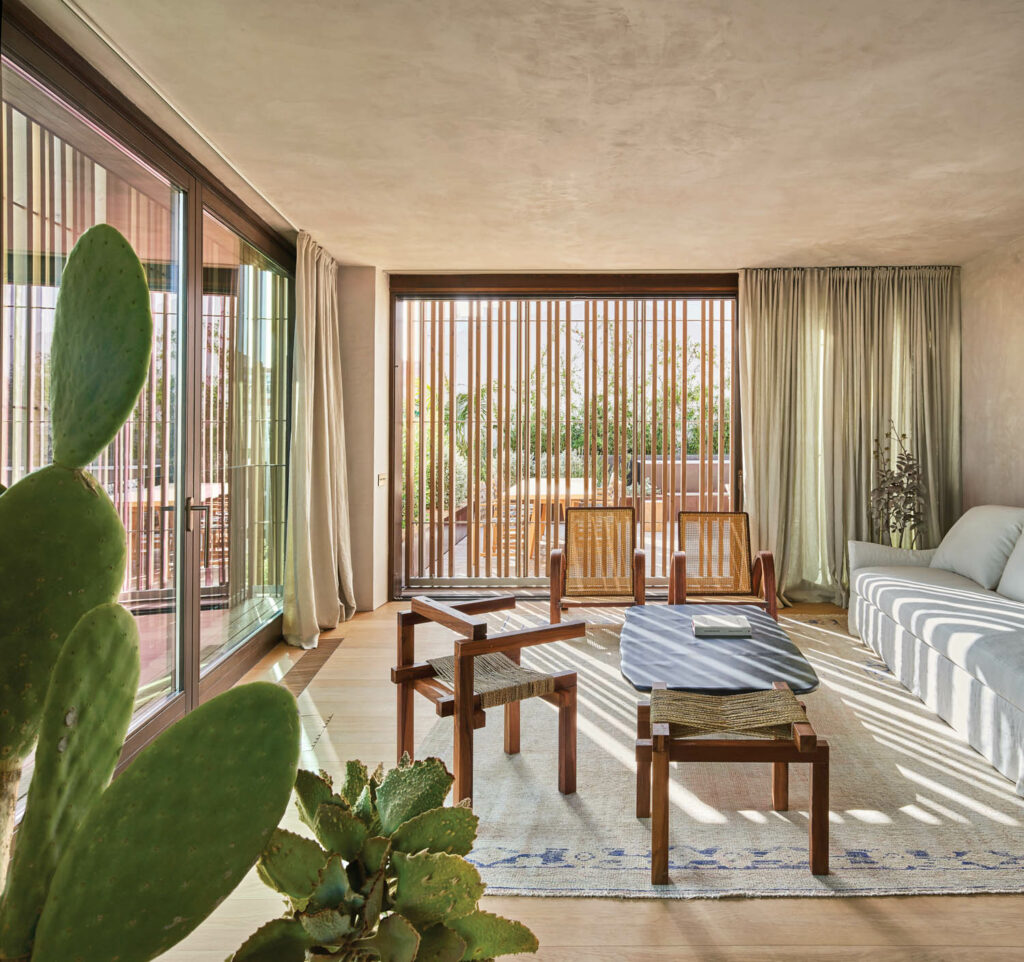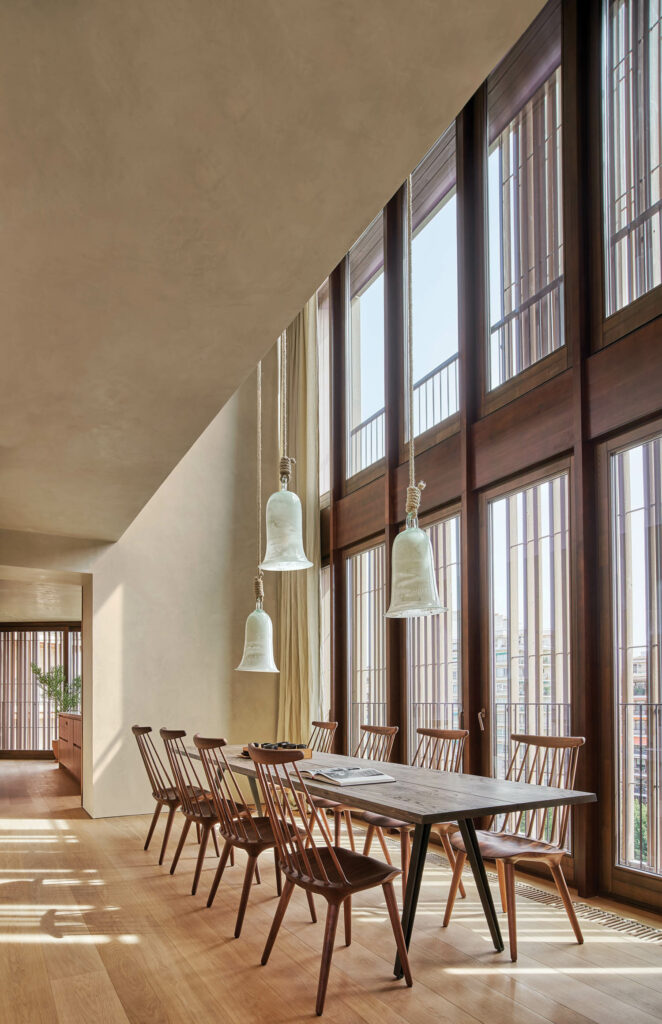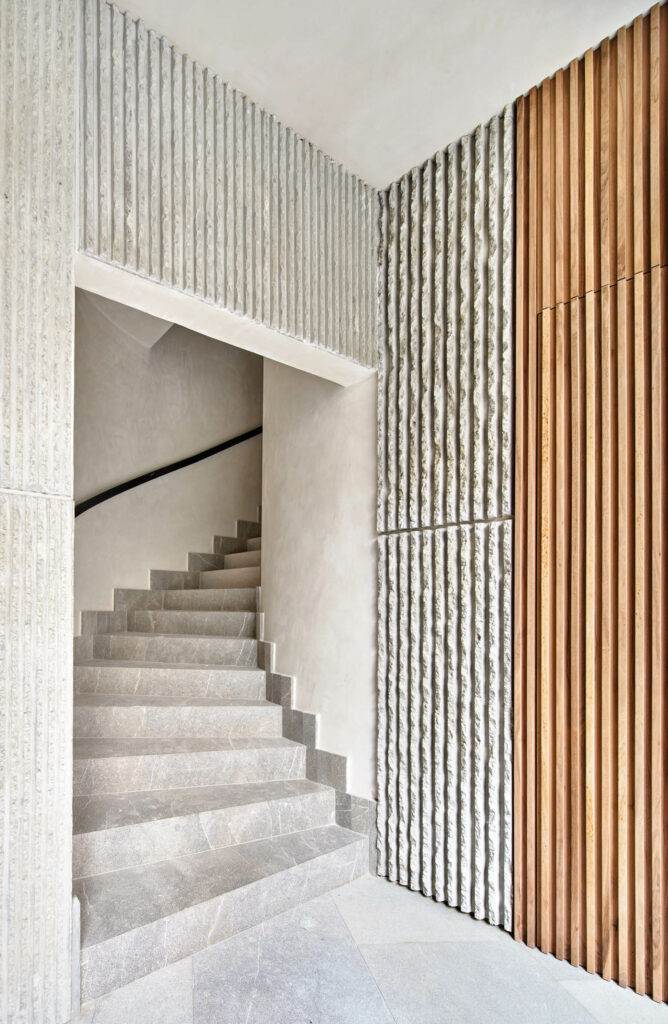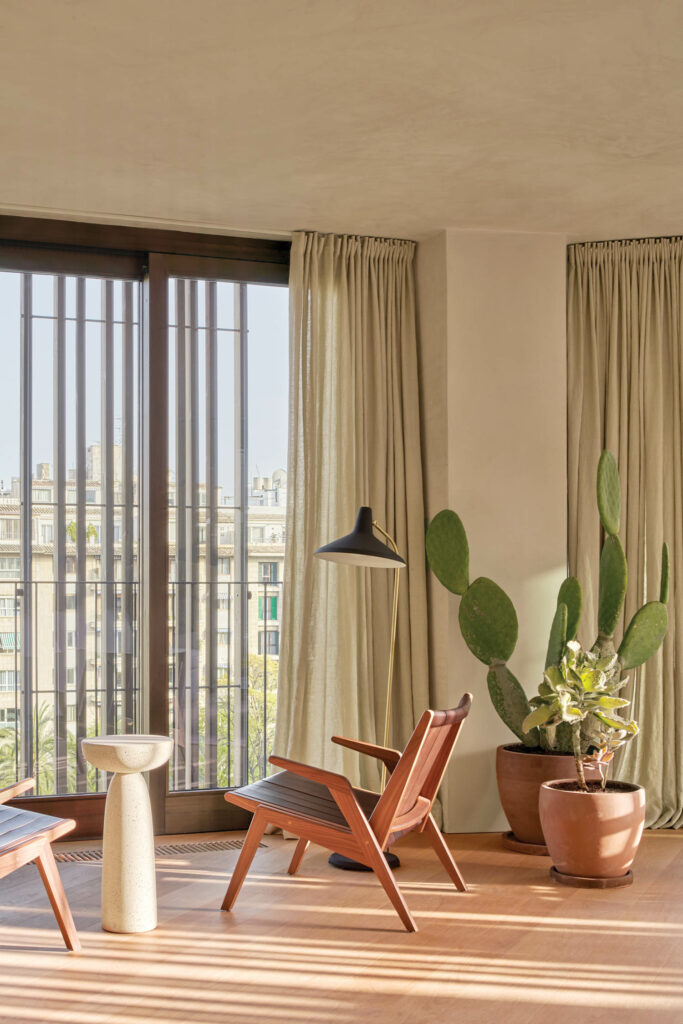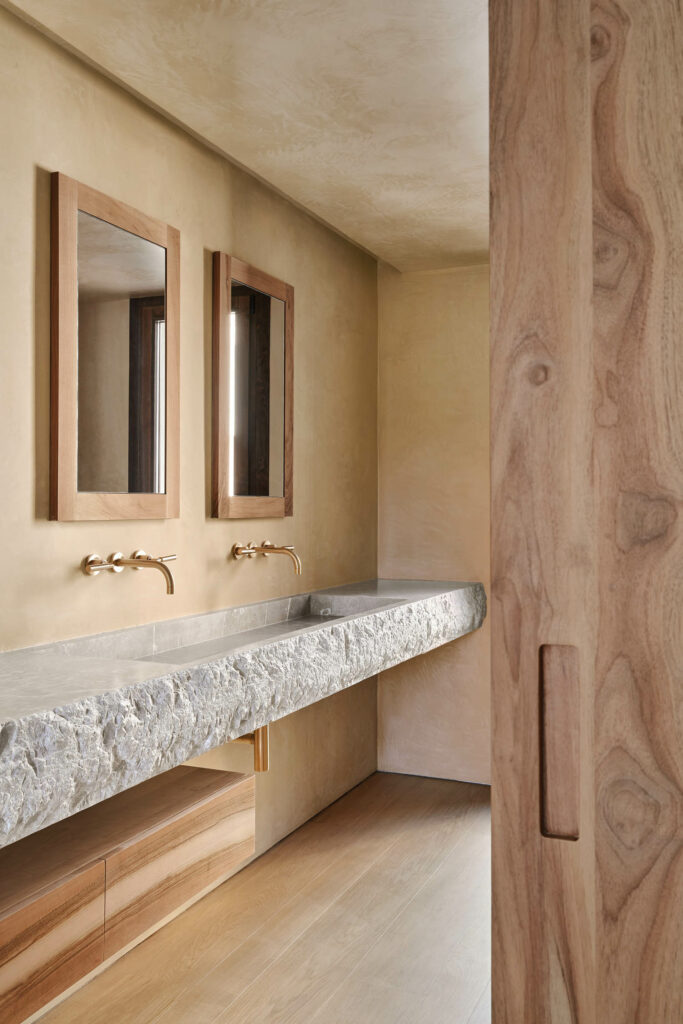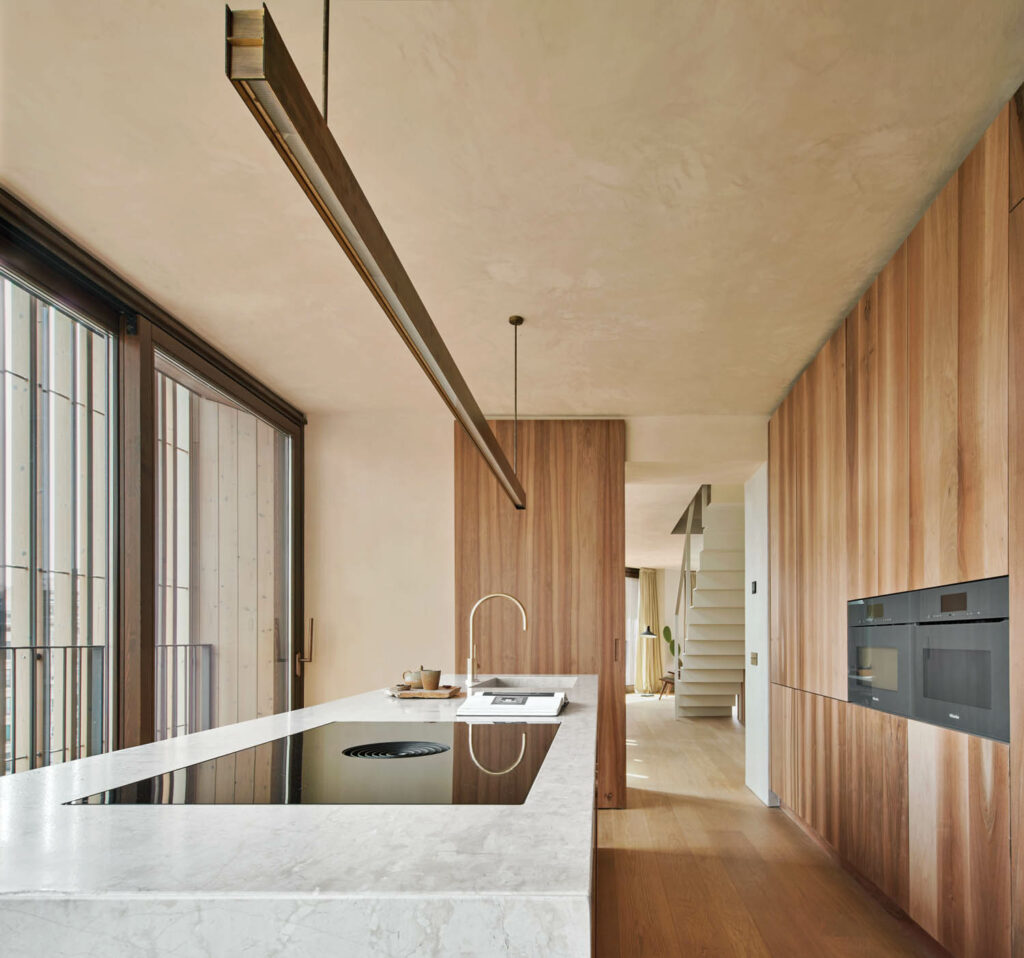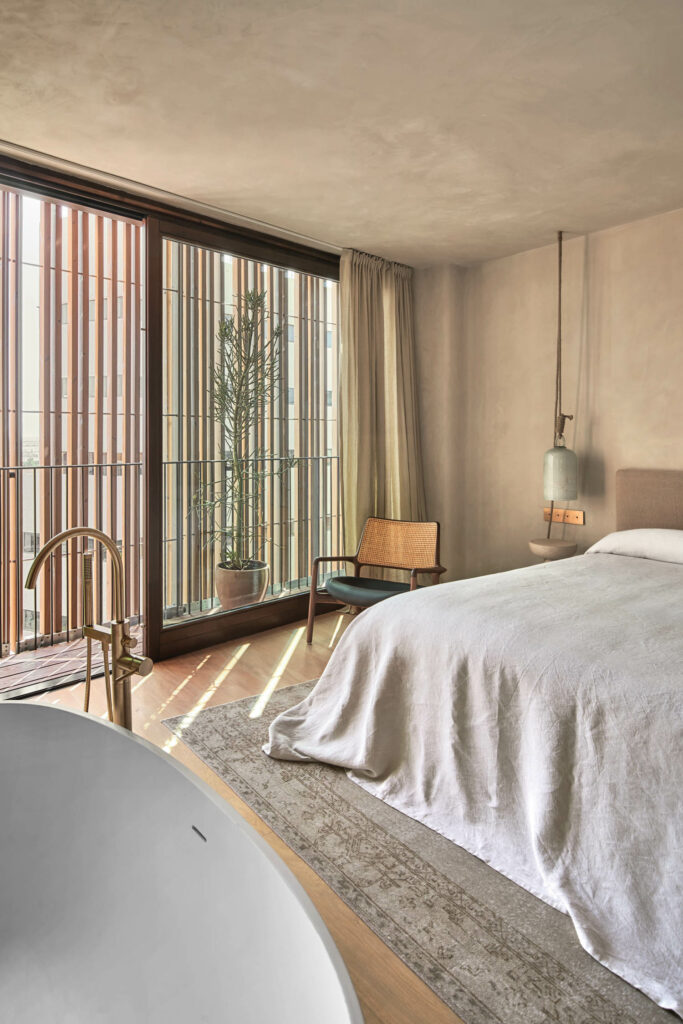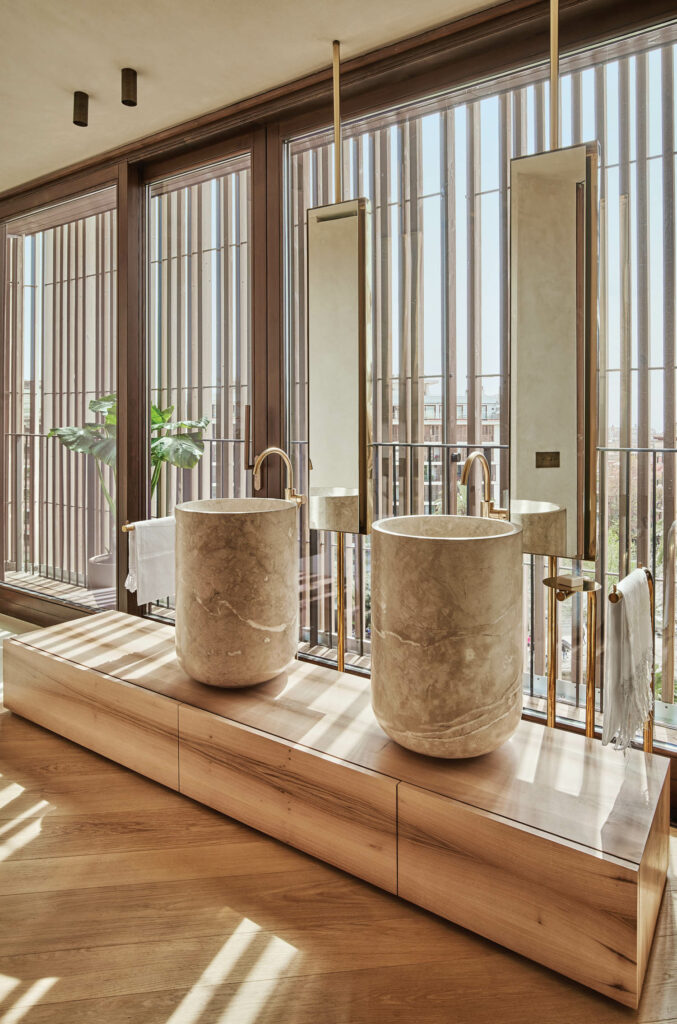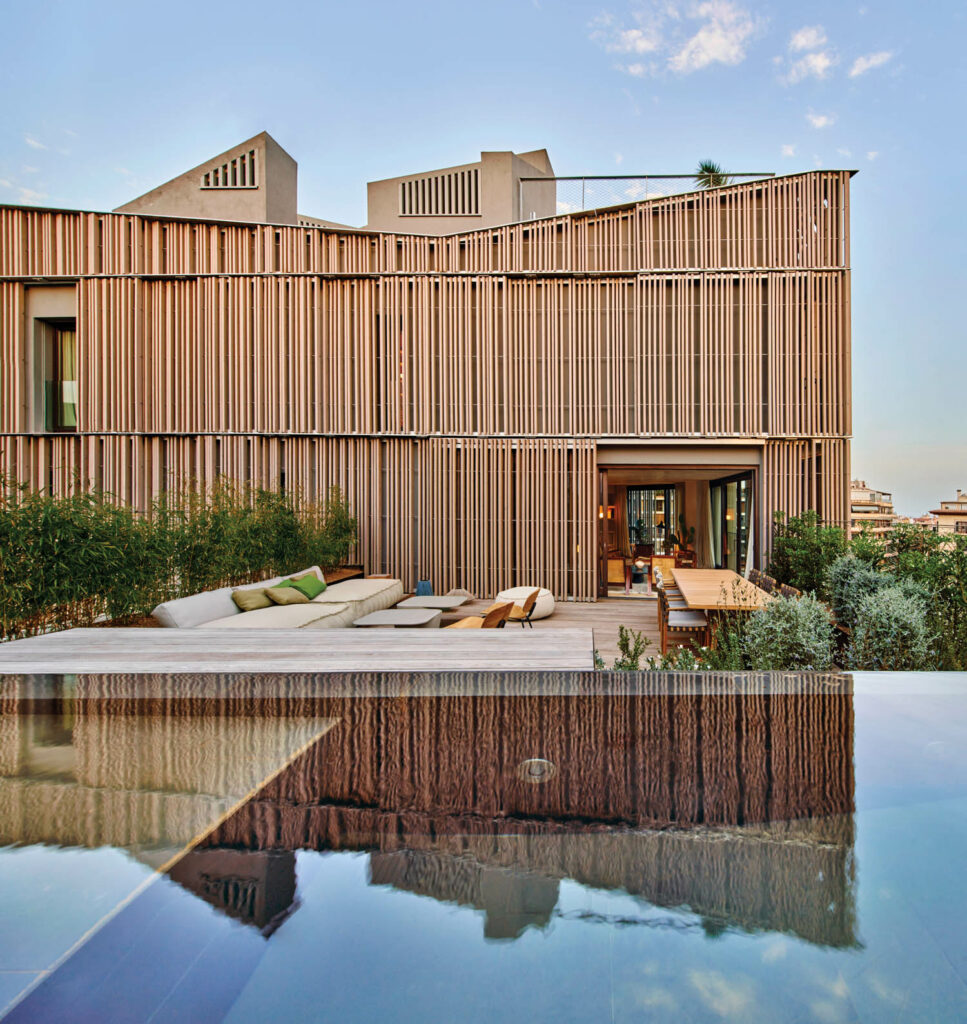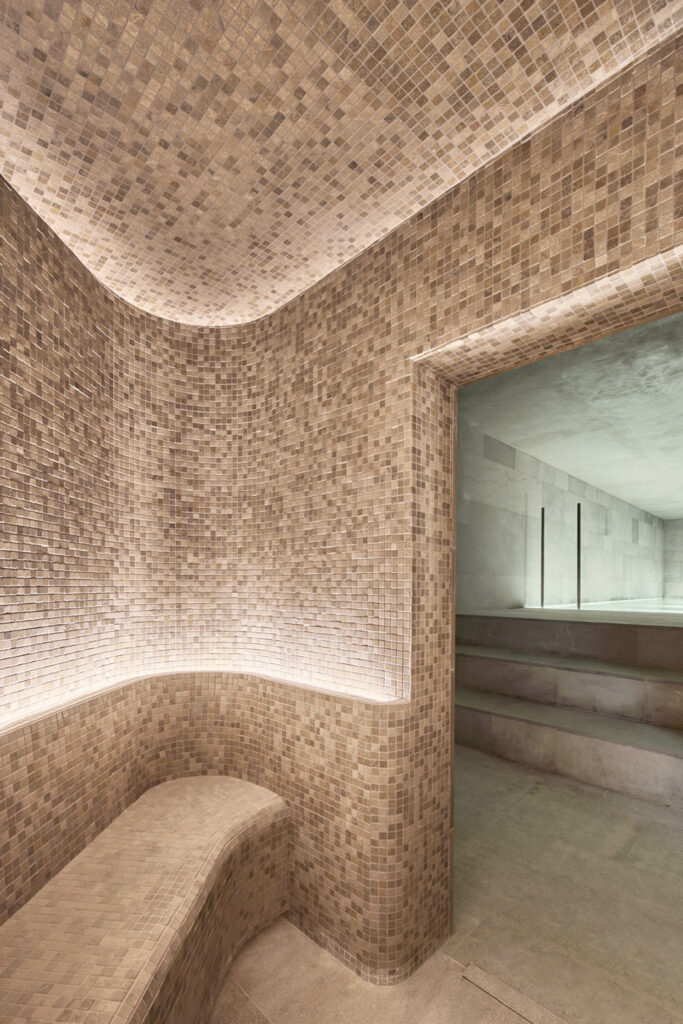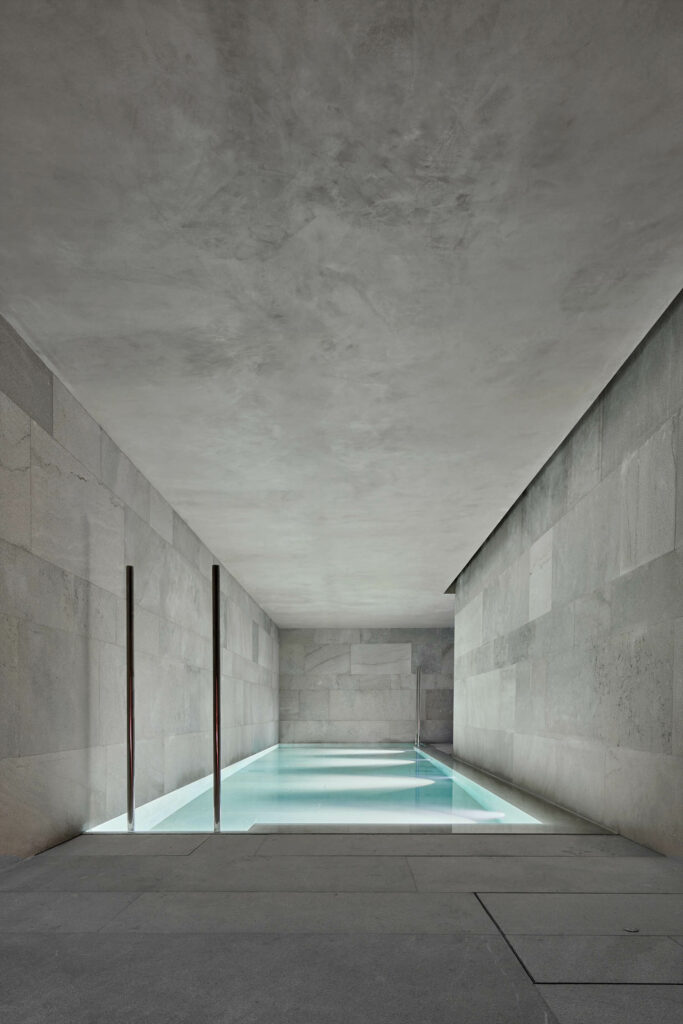 PROJECT TEAM
jonathan bell studios
: landscape architect
hima structuras
: structural engineer
line studies
: civil engineer
contract stone & ceramic
: stonework
construcciones regla de oro
: general contractor
PRODUCT SOURCES
FROM FRONT
cassina
: chairs (courtyards)
il giardino di legno
: tables
malif
: car elevator (garage)
la pecera mallorca
: stools, chairs (living room)
gordiola
: pendant fixtures (dining room, bedroom)
de la espada
: table (dining room)
solos
: chairs (dining room, bedroom)
Gubi
: floor lamp (living room)
contain
: pendant fixture (kitchen)
lenti paola; tribune
: outdoor furniture (terrace)
THROUGHOUT
decagono
: furniture suppliers
gubia group
: timberfacade installation
Dornbracht
: sink fittings, tub fittings