Summer Dining Room Mood Board (Tones of Green, White, and Blue!)
This Post May Contain Affiliate Links. Please Read Our Disclosure Policy here

Get inspiration for your home with a summer dining room mood board in shades of green, white and blue!
Monday isn't always the most inspiring day of the week and not the day we look forward to after a great weekend, but I hope to change that with our Monday Mood Board! I hope this mood board can serve as inspiration for you and your home.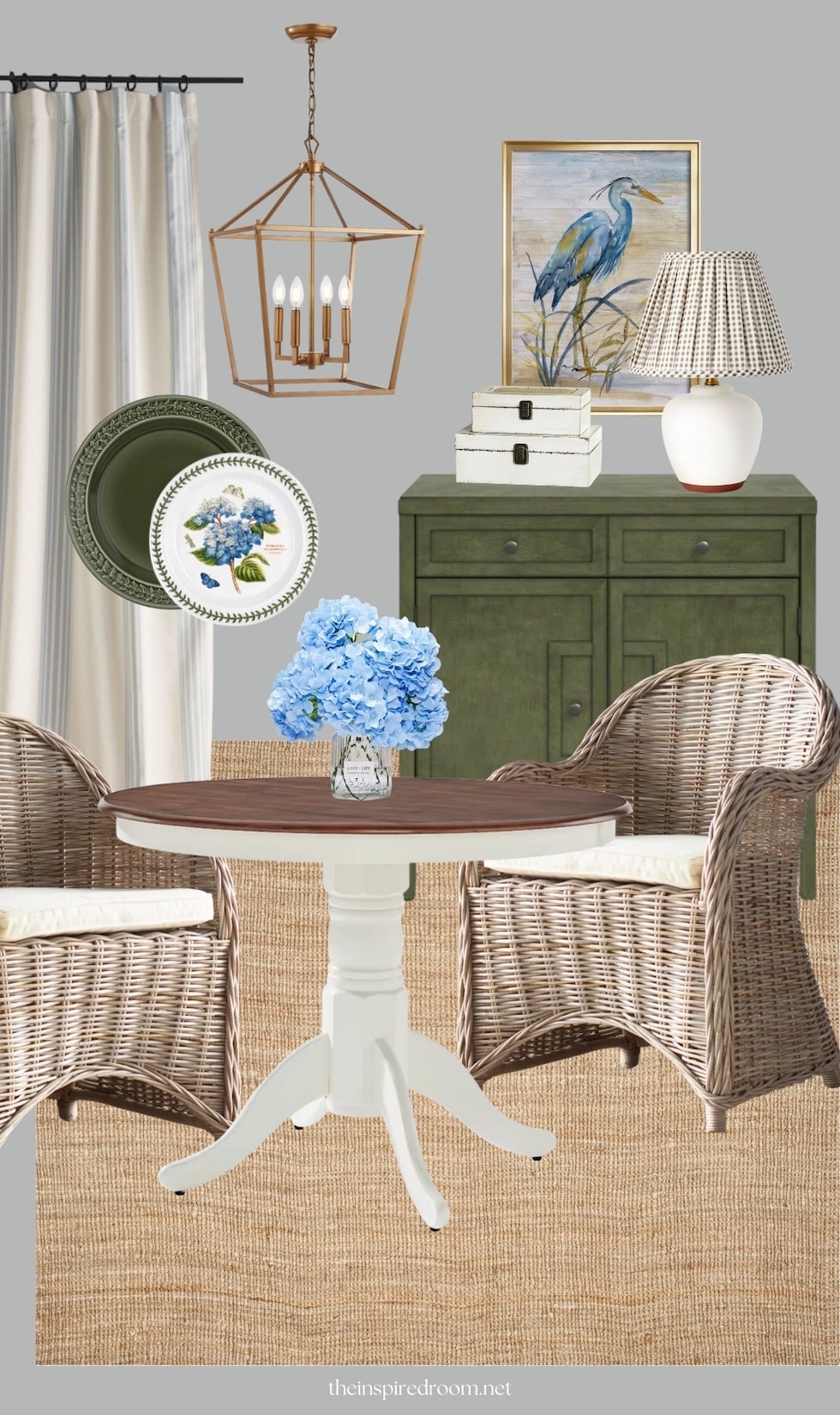 Takeout Tips for Bringing This Look to Your Own Home:
How would you describe the atmosphere of this room? It seemed to me very comfortable and cheerful. Can't you just imagine being in this room on a beautiful day with the sunshine pouring in and music playing softly in the background? Imagine sitting at a table with a friend for a nice lunch! I like it.
To create a comfortable look like this, layer it with various textures. Here we've included a versatile burlap rug, chunky wicker chair, pleated lampshade, distressed green cabinetry, wood table top, seagrass sheathing white wood-covered box tops, and more. Texture is a major décor element that every room needs, but how you choose to layer it will change the feel of the room.
The design pieces in this room are all classics, so they will stand the test of time. This is a room that you can have fun decorating every season without changing any of the furniture! A burst of deep olive green on the cabinets provides a striking color contrast that will be lovely year-round. Every time you add green to a room, the room comes alive!
Brass lantern pendants add warmth (as opposed to using cool metals like chrome, for example). I love the light bulb candles, adding a dimmer would make this room more inviting at dinner!
An adorable pleated gingham lampshade on an accent lamp will add light to any gloomy, dark corner at night.
The crane artwork speaks to my beach-loving heart, but it can easily be swapped out to suit any design style!
Lightly striped curtains add a bit of pattern and interest without overwhelming a room. I love this simple look for summer, but you could even have fun swapping out the curtain panels in the winter for a different look (like moodier colors, bolder patterns, even cozy velvet… the possibilities are endless!).
It would also be a fun space to set different tablescapes! I love this spring/summer look with a solid green plate topped with a hydrangea salad plate (topped with another floral design). I recently shared a delightful spring table scene we prepared in this post!
The simple blue hydrangea vase is the perfect nod to summer (the flowers on the mood board are faux so you can enjoy them longer as well as use them year after year! See photos of them in my home here).
The mood board source link is below. You can use this mood board to recreate an entire look or choose your favorite elements and add your own sense of style. Save this to your Pinterest boards for future inspiration!

---
Rattan Dining Arm Chair
Striped Linen/Cotton Curtains (choice of color)
Green 2 Door Accent Cabinet
4 Lamp Lantern Lights
Faux Blue Hydrangea (I have this in several colors, see more of my photos in this post)
Pedestal Dining Table with Wood Cyclone
Green Plate
Botanic Garden Plates (set of 6 with different flowers)
Table Lamp in Gingham Pleated Shades
Jute Rug (nearly 20,000 great reviews!)
Blue Stork Painting
White Wood Lid Box with Seagrass Top (I have this!)
Do you enjoy mood boards? You can find more HERE, and you can also follow our Instagram @theinspiredroomstyle for more mood boards and decorations.
Related:
Cozy and Inviting Dining Room – Get the Look
Dining Room Mood Board with Simple Exchange
Explore all of the dining room inspiration in our Dining Room gallery here
My dining room inspiration board on Pinterest