DIY Heart Shaped Gift Box from Recycled Plastic Bottles
Looking for a fun and easy DIY project? These heart-shaped plastic bottle gift boxes are perfect for anyone who loves crafts. Easy to make and looks beautiful when finished. You can use it as a storage box or as a decoration, depending on your needs. This project is perfect for Valentine's Day, Mother's Day, or any other special occasion. With just a few materials and a little time, you can create something extraordinary that will be treasured for years to come.
Plastic Bottle Heart Gift Box
We all know that one person is impossible to shop. You know, people who already have everything they want? Well, this year, we have the perfect solution – make custom heart boxes and fill them with candy or cookies!
This unique gift box is made from recycled plastic soft drink bottles and some craft paper and glue. This makes it eco-friendly and stylish. Plus, it's so easy to make! Just follow a simple tutorial and you'll have beautiful boxes in no time. This is truly the perfect way to show your loved ones that you care and help the environment at the same time. For me, it's a clear win-win situation.
If you want to make something else for this special day of love, start with these adorable heart gifts in bottles or simply add a paper flower bouquet to your mantle!
What Should I Use For the Lid of the Box?
To make the lid for the box, you want something that you can shape into a heart. Use something like cardboard, foam, or plastic. I like to use pretty scrapbook paper or some sparkly flannel to cover it up. If you're using something a little more plain, you can paint or decorate the top.
Similar Projects: Cute Paper Flowers Made from Old Book Pages
For this version, I cut the cardboard into heart shapes, then covered both sides with glitter craft foam paper. Then, make the sides of the lid with additional craft paper. This method is economical, easy, and perfect for customizing different colors or styles to suit the recipient.
What Do I Use It For?
This box can be used for whatever your heart desires! It's the perfect size for small items like candy, cookies or even coins. Below are some ideas that are perfect for this project.
When giving as a gift, fill it with candy, cookies, small trinkets, beads or even jewelry.
Use it as a garnish on the buffet at a wedding or bridal shower, or even as part of a Valentine's Day banquet. Fill it with glitter beads or faux pearls to make it look prettier.
Cut a slit in the lid and place it on the child's desk so they can store change as a "piggy bank."
Leave the lid open and use as a small planter for a delicious item or similar for a Valentine's or Mother's Day gift.
Fill it with handwritten notes of love and encouragement and give it to a friend or family member.
Use it as a party favor and tuck small toys, balloons, puzzles, crayons or coloring pages inside.
How Else Can I Decorate My Gift Box?
If you want to get really creative, you can decorate the outside of the box with washi tape, glitter, or whatever else you can think of. I like to add some artificial plastic or even paper flowers to the top of the box for a little extra special.
More ideas include adding ribbon, sequins, or beads to give this box a pretty look. You can also decorate the inside of the box by gluing pretty paper or cloth. If you want to hide what's inside, this is a fun way to make it a sturdy box rather than one that's clear and see-through.
Similar Projects: How to Make Easy Easter Paper Carrot Boxes – Video Tutorial
Add some felt to the bottom of the box to create a jewelry box design. You can also paint small designs on the outside of the box or on the top of the box.
As you can see, the possibilities with this are endless and only what you need or want to use the box for.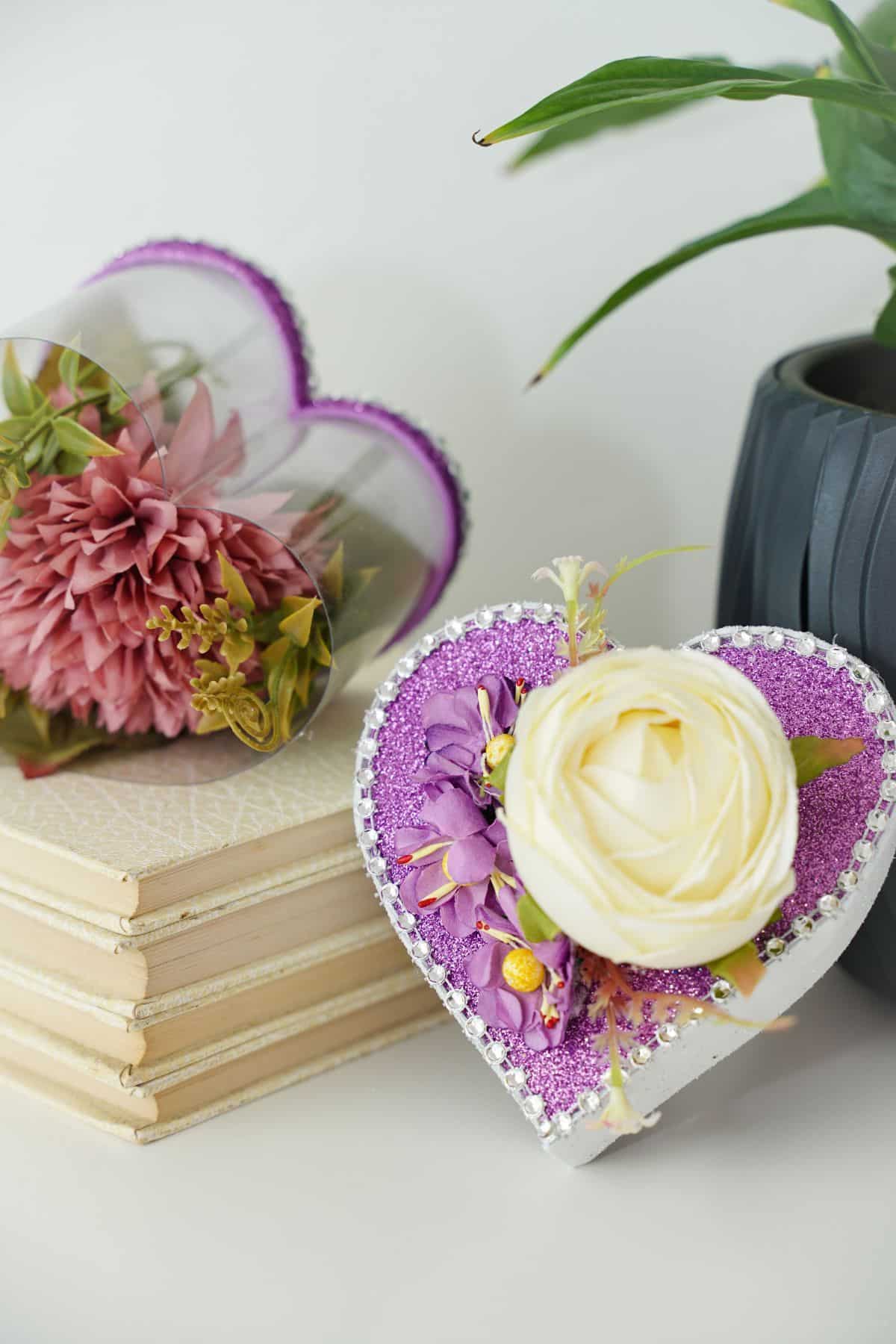 Required Supplies
How to Make a Heart Shaped Gift Box
Video tutorials:
For this project, you'll start with a 2-quart plastic bottle as the base. I recommend washing it well and letting it dry plus removing any labels. Then, you will cut the bottle by removing the top and bottom, leaving only the center with flat sides.
Once these are cut out, place them on the table and press them flat and you have made pleats on both sides.
Then, you'll pull it apart, and on one side of the fold, you'll turn the fold over and push it down into the other fold. This creates the heart shape you want. Shape as you like until it is heart-shaped, then set aside.
Now, on purple glitter paper, measure and cut a ½" wide. Depending on how big your heart is, you may need several strips.
Then, glue this around the plastic heart, so that it is wrapped around the bottom edge. Add additional purple foam strips if needed.
Now, place this heart on a piece of foam, and trace around it. Then, cut out this heart shape.
Similar Projects: How to Make an Adorable Washcloth Teddy Bear
Now, glue this to the bottom of the heart.
Next, add a bit of beaded ribbon around the bottom edge to cover the connected piece.
Then, it's time to trace another heart onto a piece of cardboard that's the same size as the heart box. cut this heart
Now, trace two hearts of the same size on the purple glitter paper and cut them out.
Place the cardboard between two sheets of purple glitter paper hearts so that the two glossy sides are facing out.
Now, you are going to cut a 1 inch wide sheet of white foam paper. This will circle the cut you just made, to create the lid.
Glue the foam so it goes over the top edge of the purple heart and hangs over the bottom.
Glue some beaded ribbon to the edge of the heart, above it.
Then decorate the top of your box with flowers or beads as desired.
Once you're happy with how it looks, you can fill the box and place the lid on top.
Easier Valentine's Day Crafts
I love making beautiful things for Valentine's Day! Whether it's as a decoration for my home, or a simple gift, there are many ways to turn the holidays into a season of favorite crafts. Below are some fun ideas for you to check out and start building quickly. Make sure you bookmark it, print a tutorial, or pin it to Pinterest!
Similar Projects: Rustic Button Christmas Wreath (With Video)
Results: 1
Turn an old soda bottle into this adorable heart-shaped gift box! The perfect way to give a Valentine's Day treat!
Active Time
30 minutes
Total Time
30 minutes
Difficulty
Easy
Estimated costs
$0
Instructions
Cut off the top and bottom of a 2-quart soda bottle, leaving only the flat center.
Press this section flat and fold both sides.
Then, separate it, and push one side down to make a heart leaving one pointed end and the other heart shaped. Set this aside.
Now, cut a ½ inch wide strip of purple glitter paper.
Glue this around one of the bottom edges of the heart shape so it's completely wrapped.
Now, glue the ends of this heart to the back of the white foam paper.
Cut around the edges so you have a base sealed to your heart.
Now, glue the strips of beaded ribbon around the bottom edge of the heart.
Next, trace the outside of the heart box onto a piece of cardboard and cut out the heart.
Trace two hearts of the same size on glitter purple paper, and cut them out.
Now, hot glue the purple glitter foam on both sides of the cardboard heart.
Cut a sheet of white foam paper 1 inch wide.
Glue this to the heart you just made, so it aligns on the top edge and is longer on one side. This creates a cover for your heart box.
Next, glue the same silver beaded ribbon to the top edge of the lid.
Then decorate the lid with some fake flowers in any design you like.
Fill the box and put the lid on top.
Notes
Leave the top flowerless, punch a hole in it, and make it to receive Valentines or turn it into a coin bank.
recommended product
As an Amazon Associate and member of other affiliate programs, I earn income from qualifying purchases.
Completed Project Gallery
It is ideal for putting cookies or candies inside and giving them as gifts.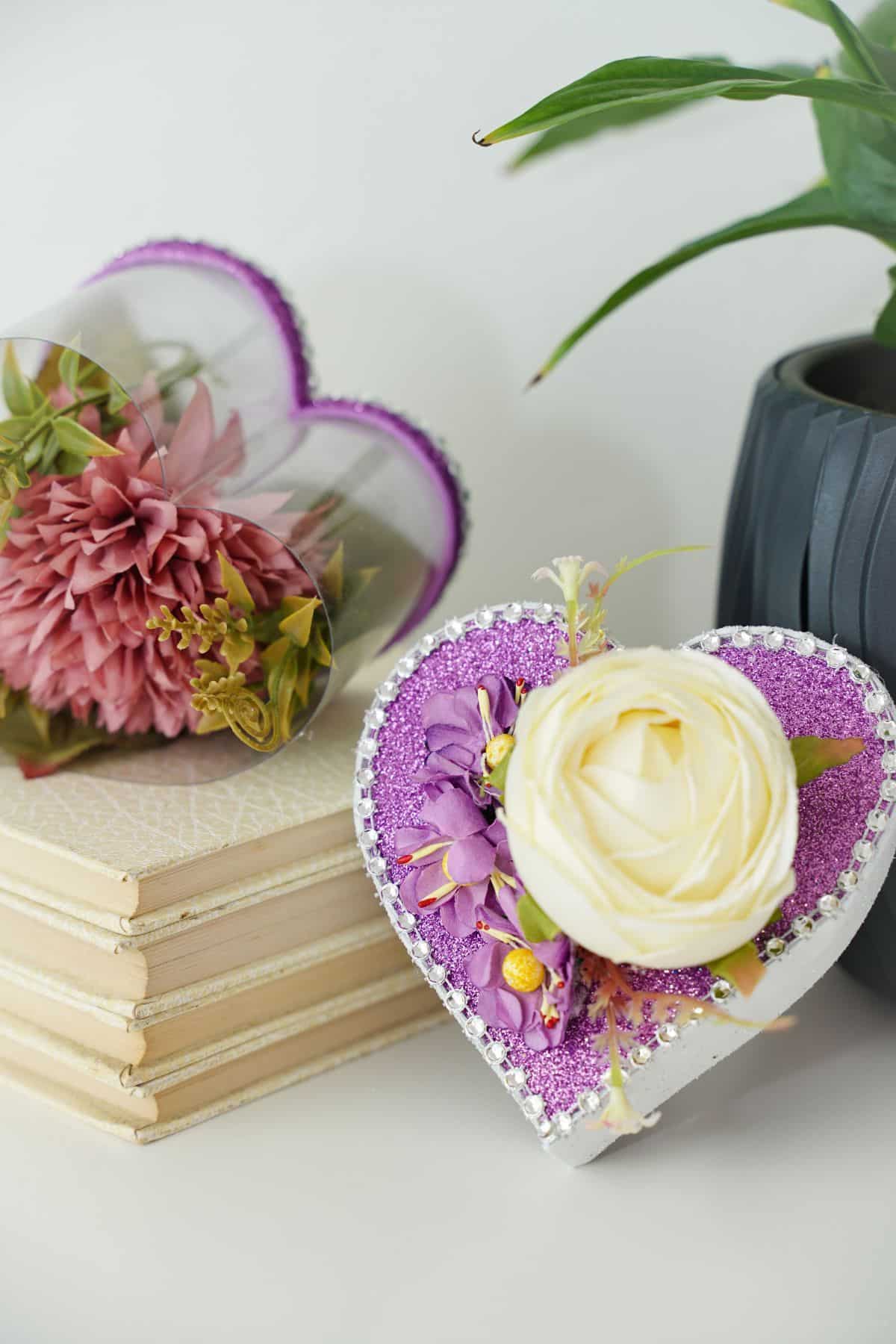 You can even use it as a jewelry box if you want.