Welcome to Tiny Cottage (Empty House Tour!)
This Post May Contain Affiliate Links. Please Read Our Disclosure Policy here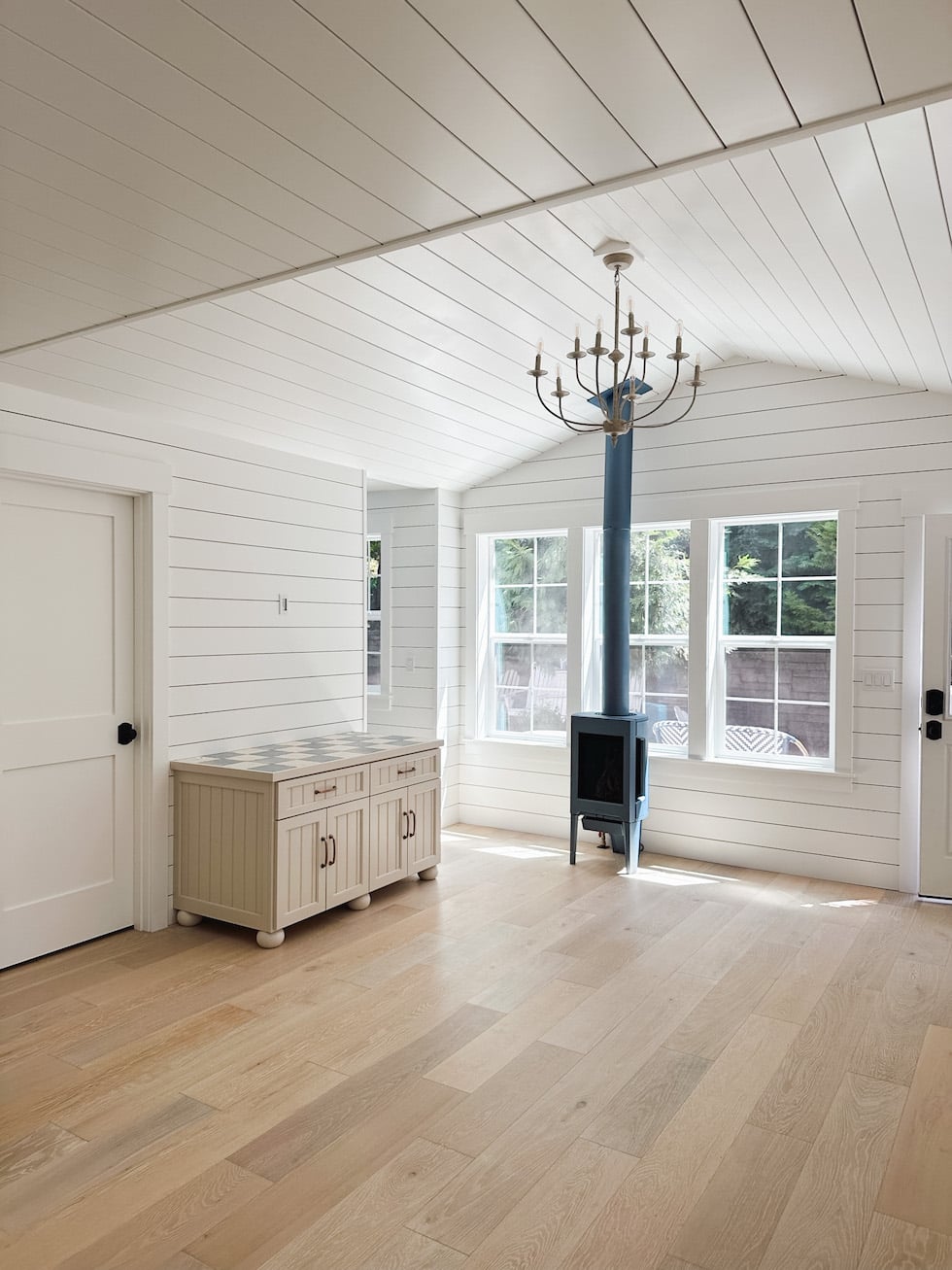 It's done (well, major construction is done, but there's a lot more to be done on the outside). My parents now live in Tiny Cottage (SO FUN!), but before they moved in and settled in, I took some quick pictures so you can see how adorable it looks even empty! Don't worry though, if you love this tiny cottage as much as I do, my mom will let me share it again and again, so it won't be the last time you see it. 🙂
If you are new here, this Tiny Cottage is actually part of our house, you can enter it through our mud room or garage. However, this is a self contained house! This is really a small cottage about 450 square feet but has its own outside entrance, DARLING kitchen, bathroom/laundry, corner bed, sitting area, outdoor deck and garden.
Did I mention it's CUTE AS A BUTTON? But you can see for yourself!
The Tiny Cottage was designed as my parents' full-fledged residence but is also part of the main house. Best of all worlds! It's also a useful space that could serve the family in many ways for years to come. We'd like to say we stayed in our holiday home. This is our only home but it is within walking distance of the beach so you really feel like you are on vacation every day.
The seating area at Tiny Cottage with its soaring ceilings, chandeliers, white-board walls and charming blue fireplace is so inviting it is amazing to enjoy it in any season. The light is gorgeous in here and I love the view of the trees outside– and in winter when it snows (which usually only lasts a week or so) the view through these windows is just as stunning! Soon there will be plants and furniture outside too.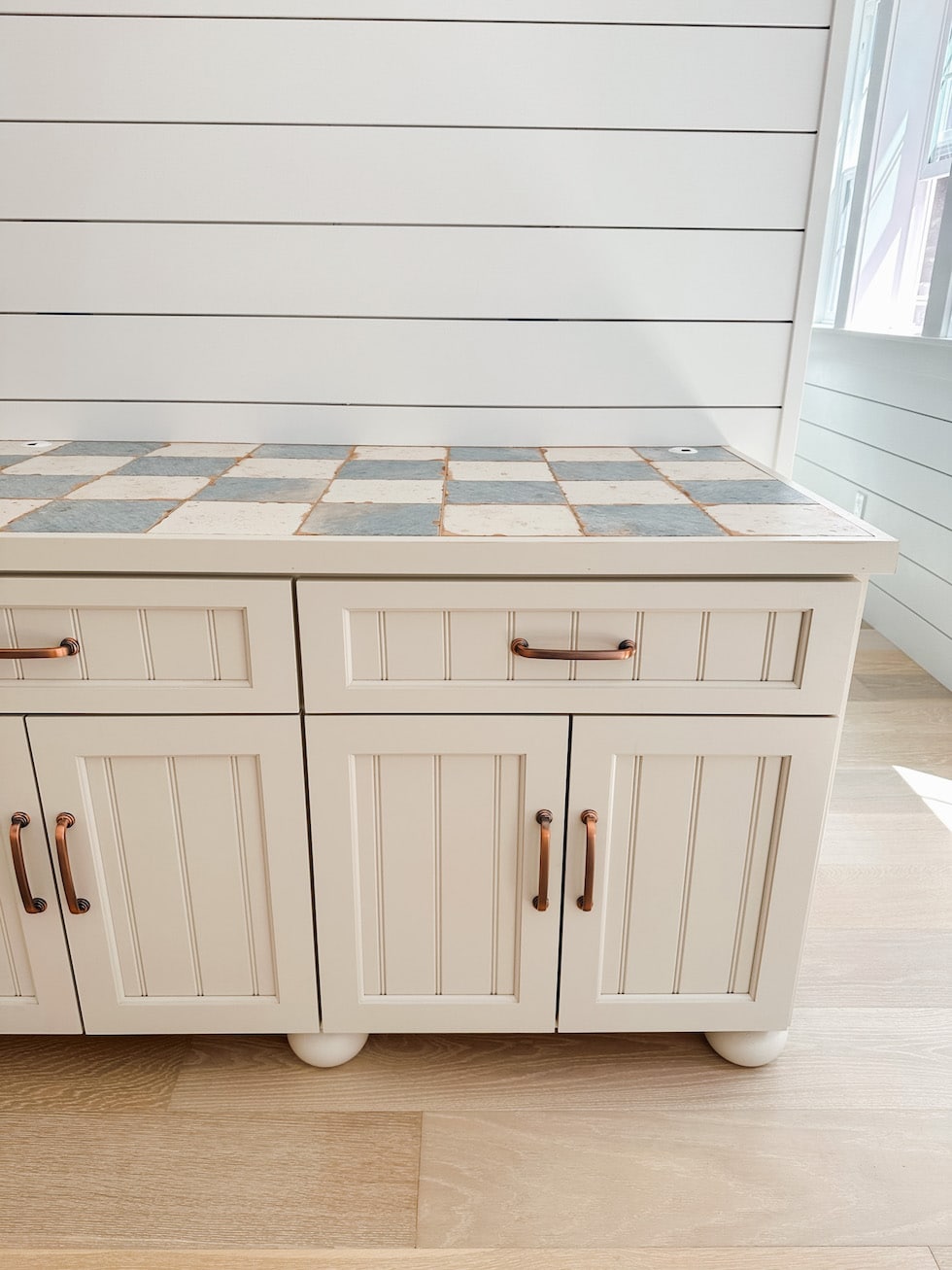 ---
Another fun feature in this sitting room is this built-in cabinet, designed by my parents specifically as a kitchen complement for storage, a coffee station for their espresso machine and a place for their toaster oven. It has a tiled top. And their TV Frame stuck to the wall above it. small space PERFECTION!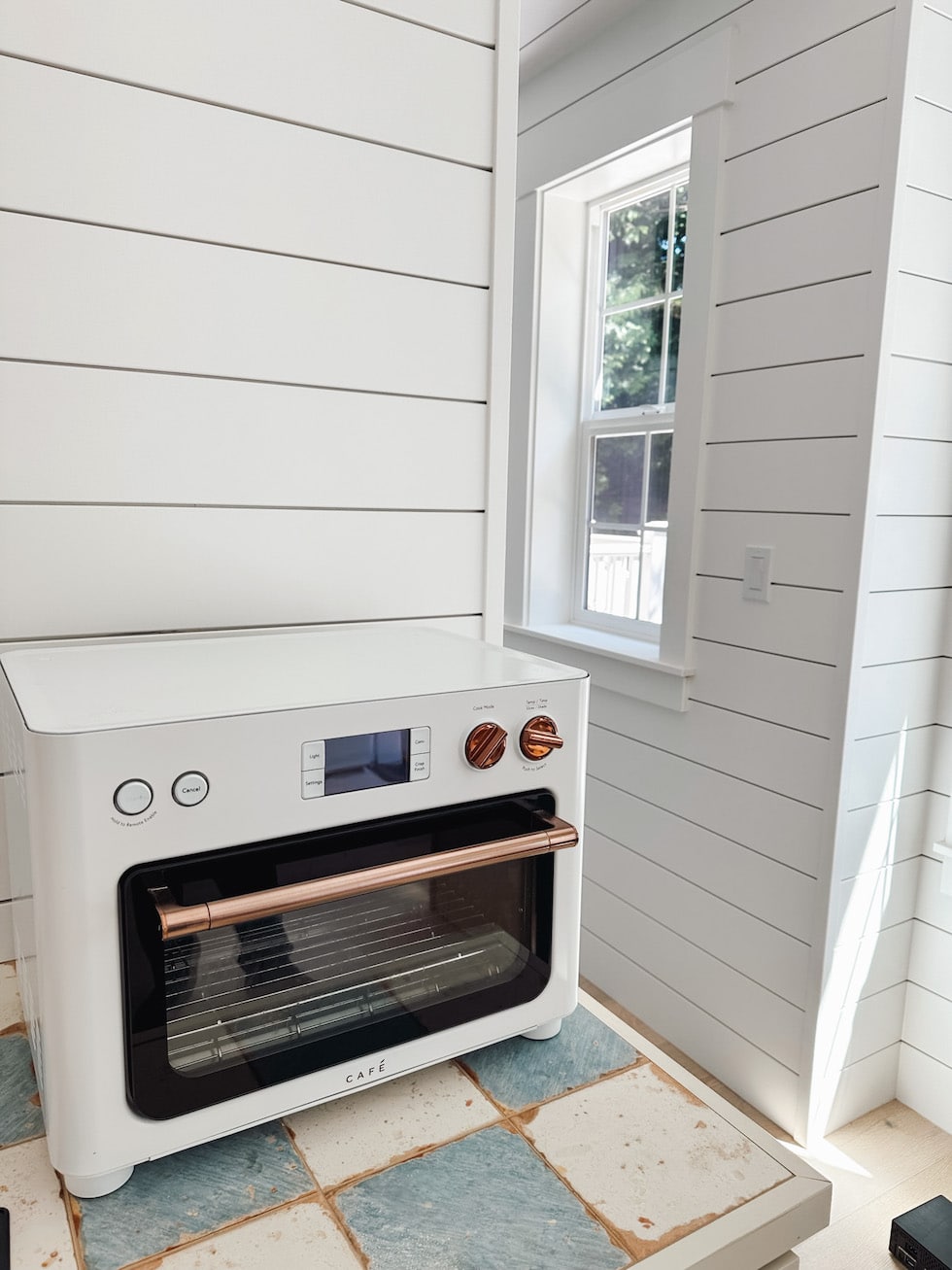 Charming little kitchen tucked away and what a lovely surprise to walk into it! Bright and sunny with windows overlooking the Tiny Garden and window boxes. I love all the cottage-y elements my mom chose — from vintage-inspired appliances, to tiles to blue cabinets to copper hardware to fun display shelves, deep window sills, and plant nooks! I can't wait to see how she decorates here.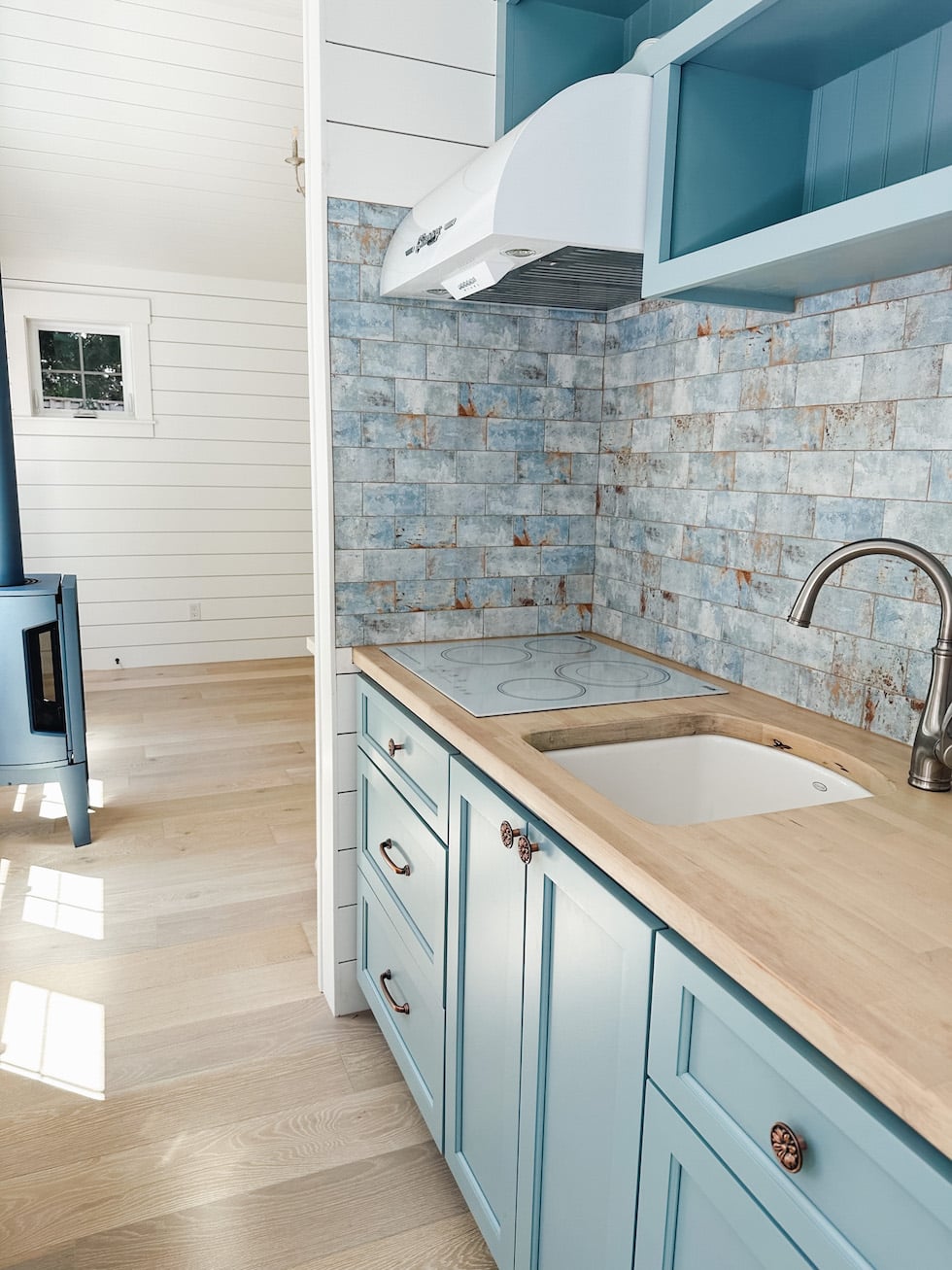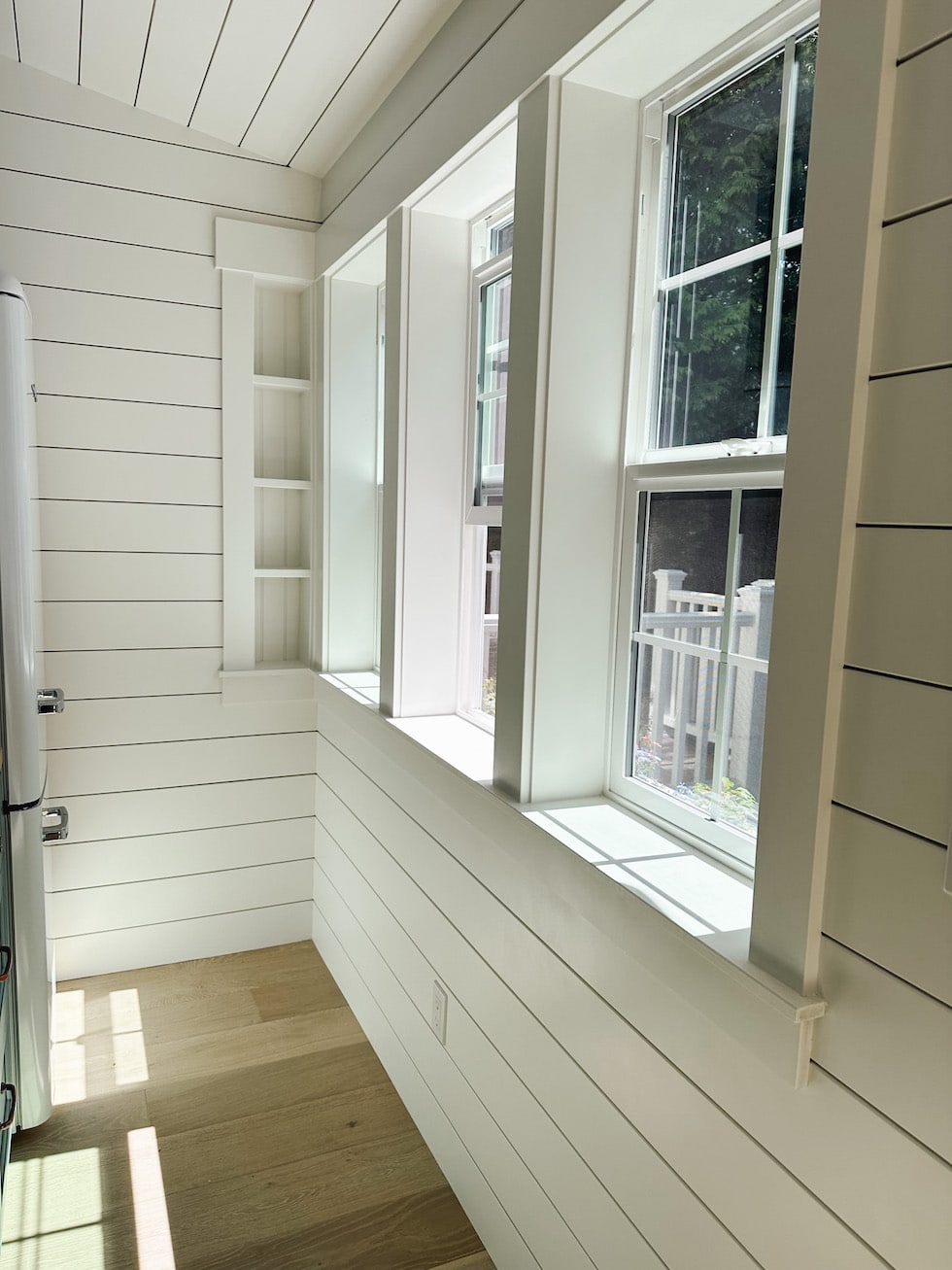 ---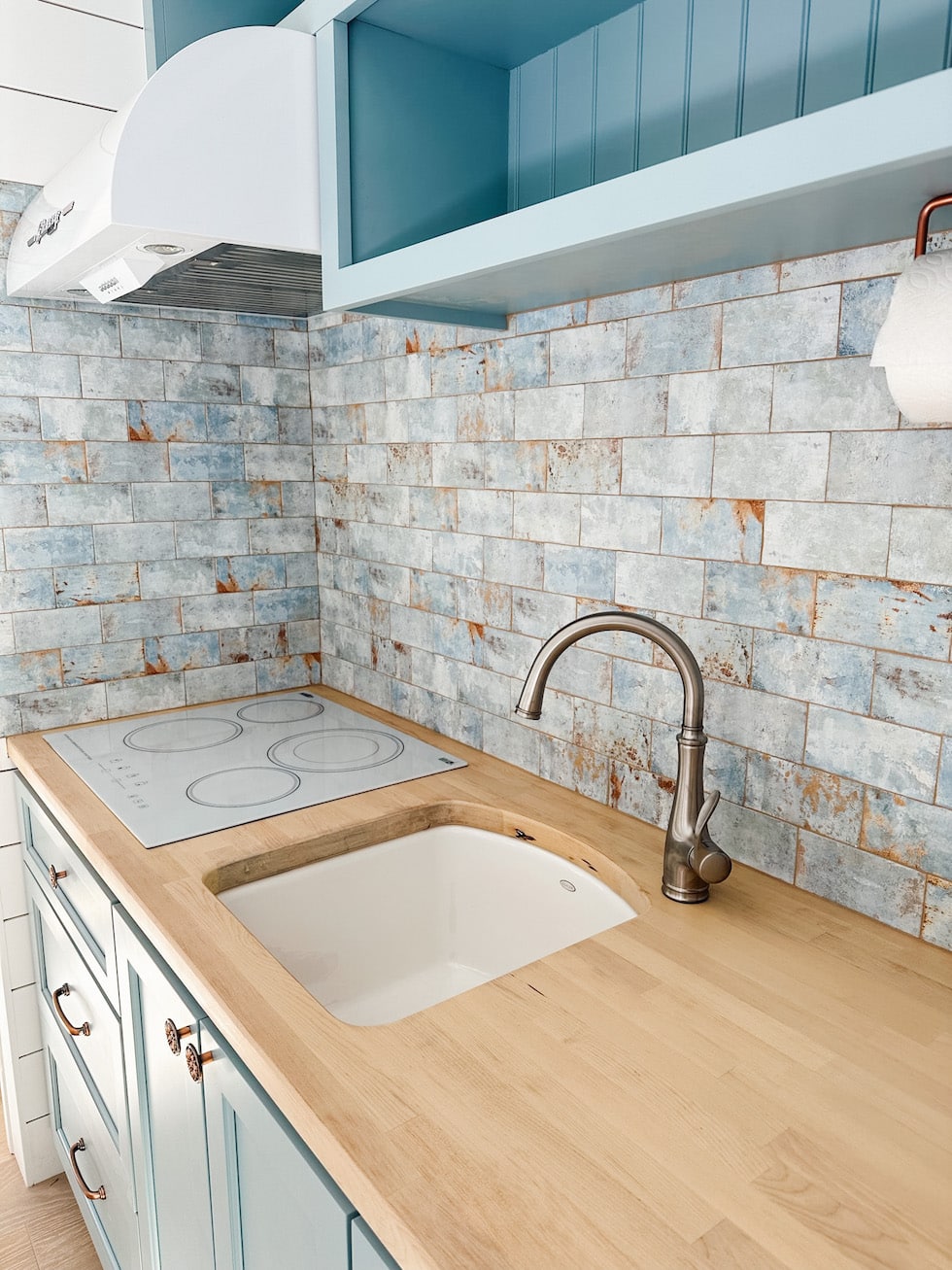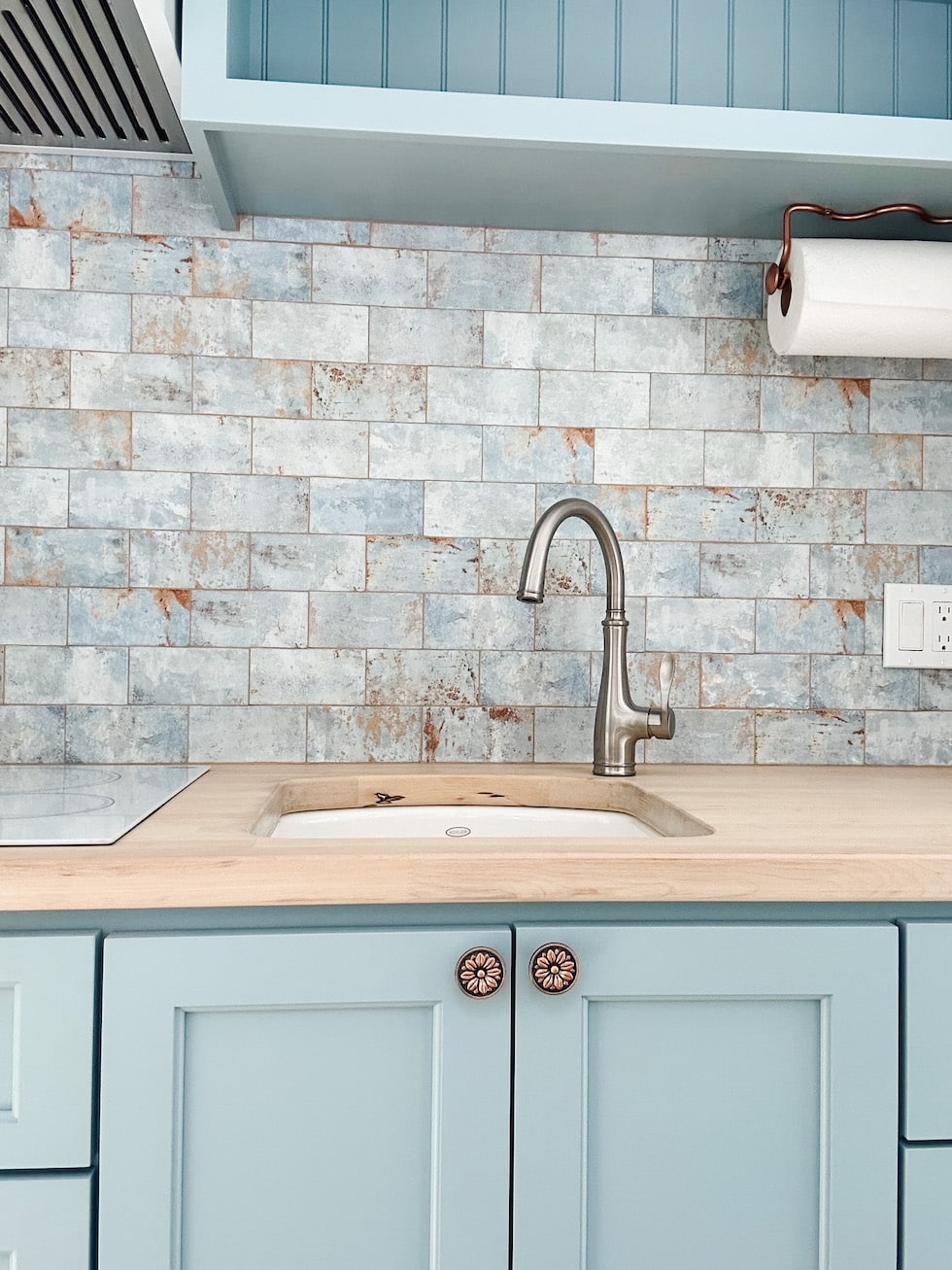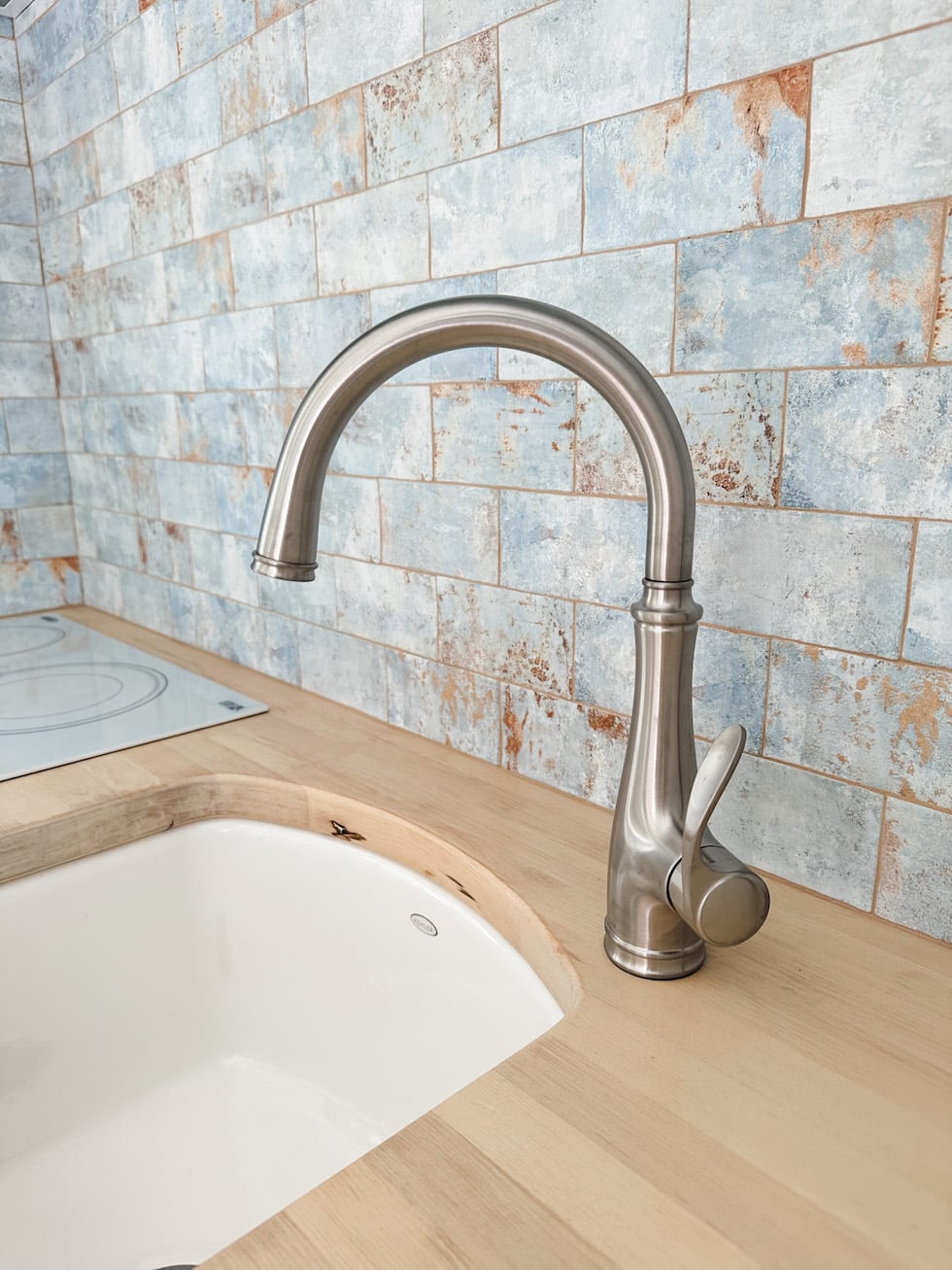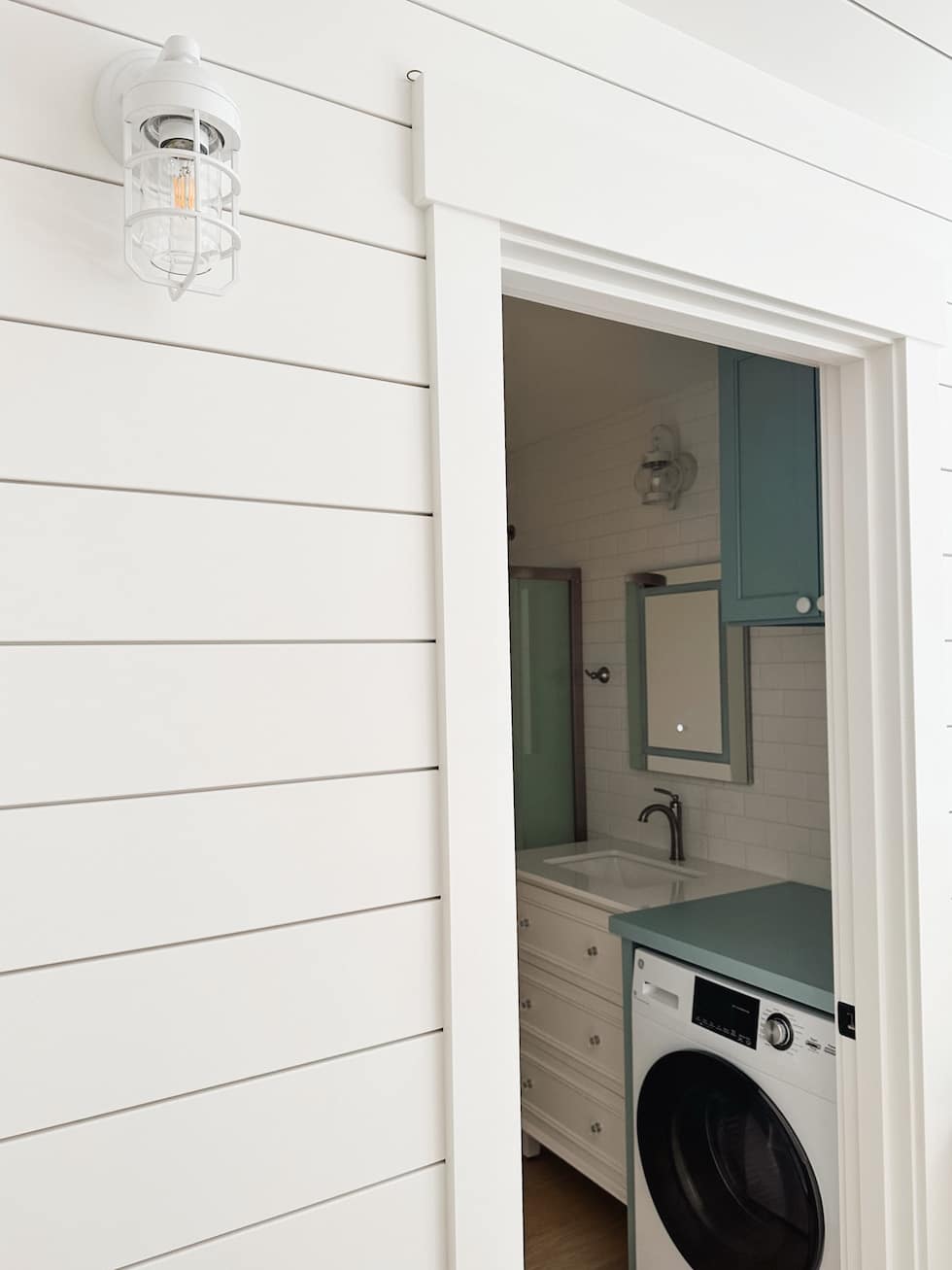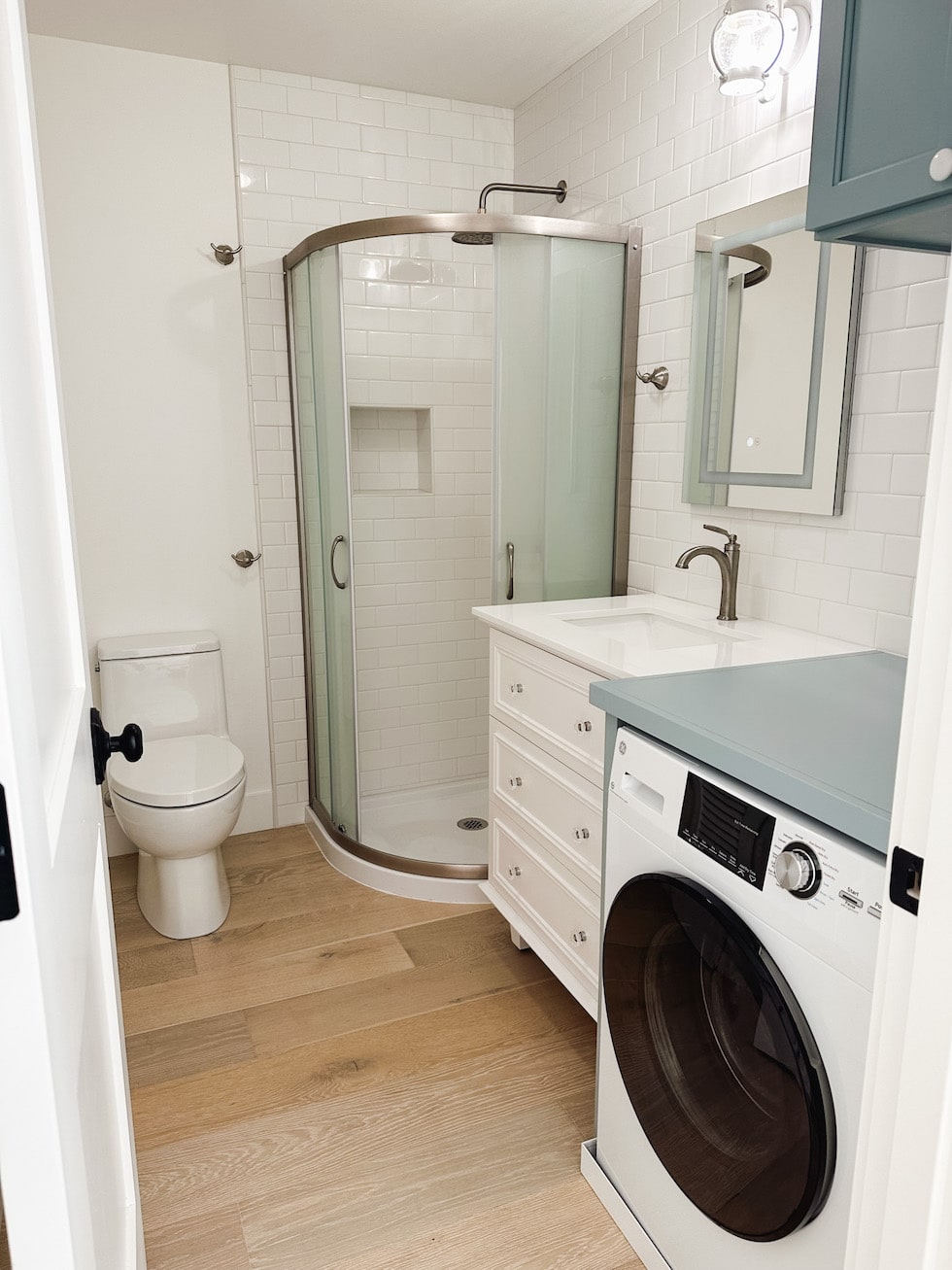 I love the bathroom/laundry room – it has the neatest washer/dryer combo (a small space's dream!) and handy storage too.
Fun fact, these subway tiles are actually the same tiles we had in our old gray and white kitchen! We had leftovers and they bought more to finish. (Ours is called Arctic White #0190 but there is a similar color here)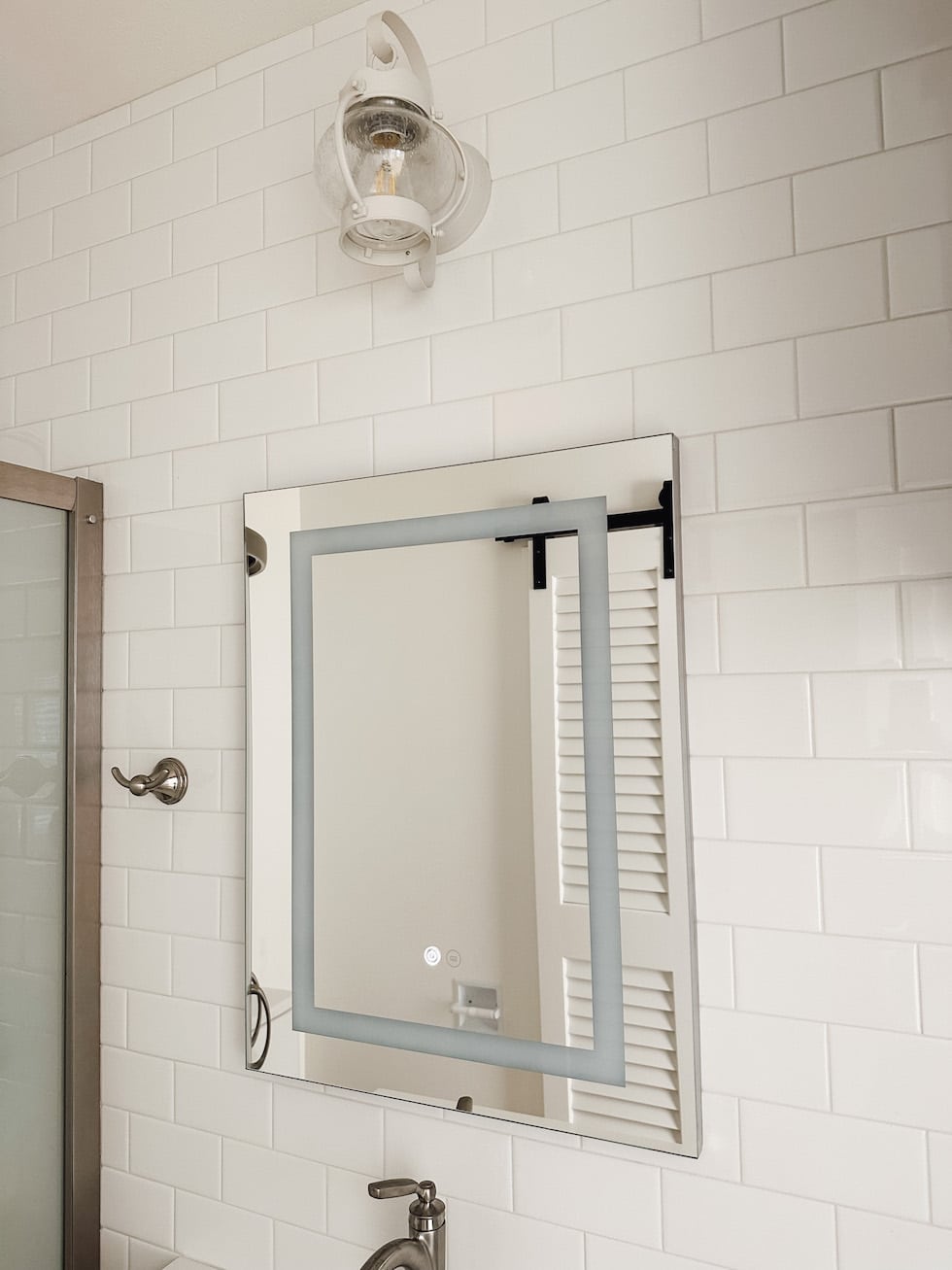 The medicine cabinet has lights and mirrors inside and out, plus a fancy de-fogging feature! The ceiling has a fan with a heating lamp so it gets warmer here in the cooler months.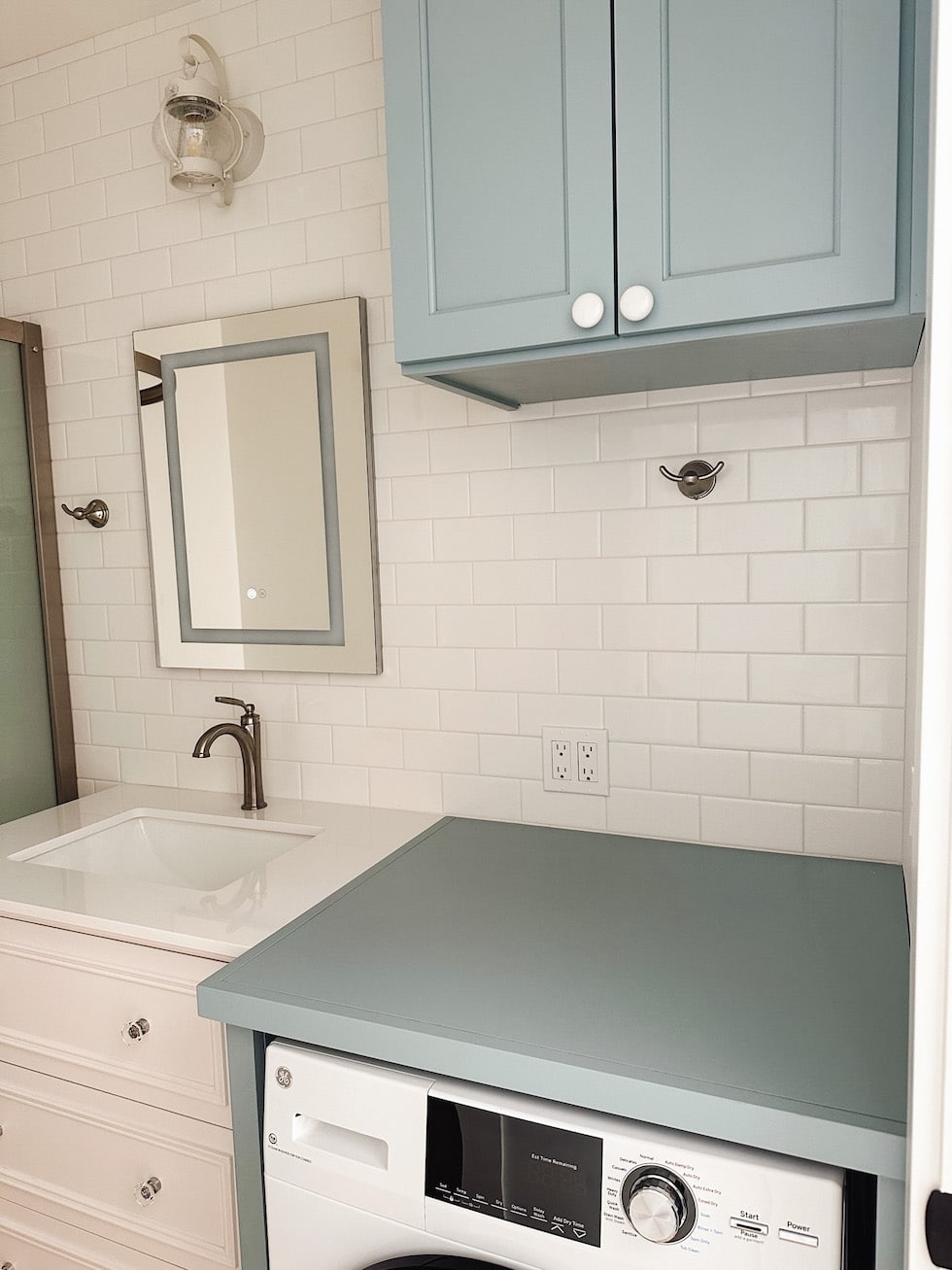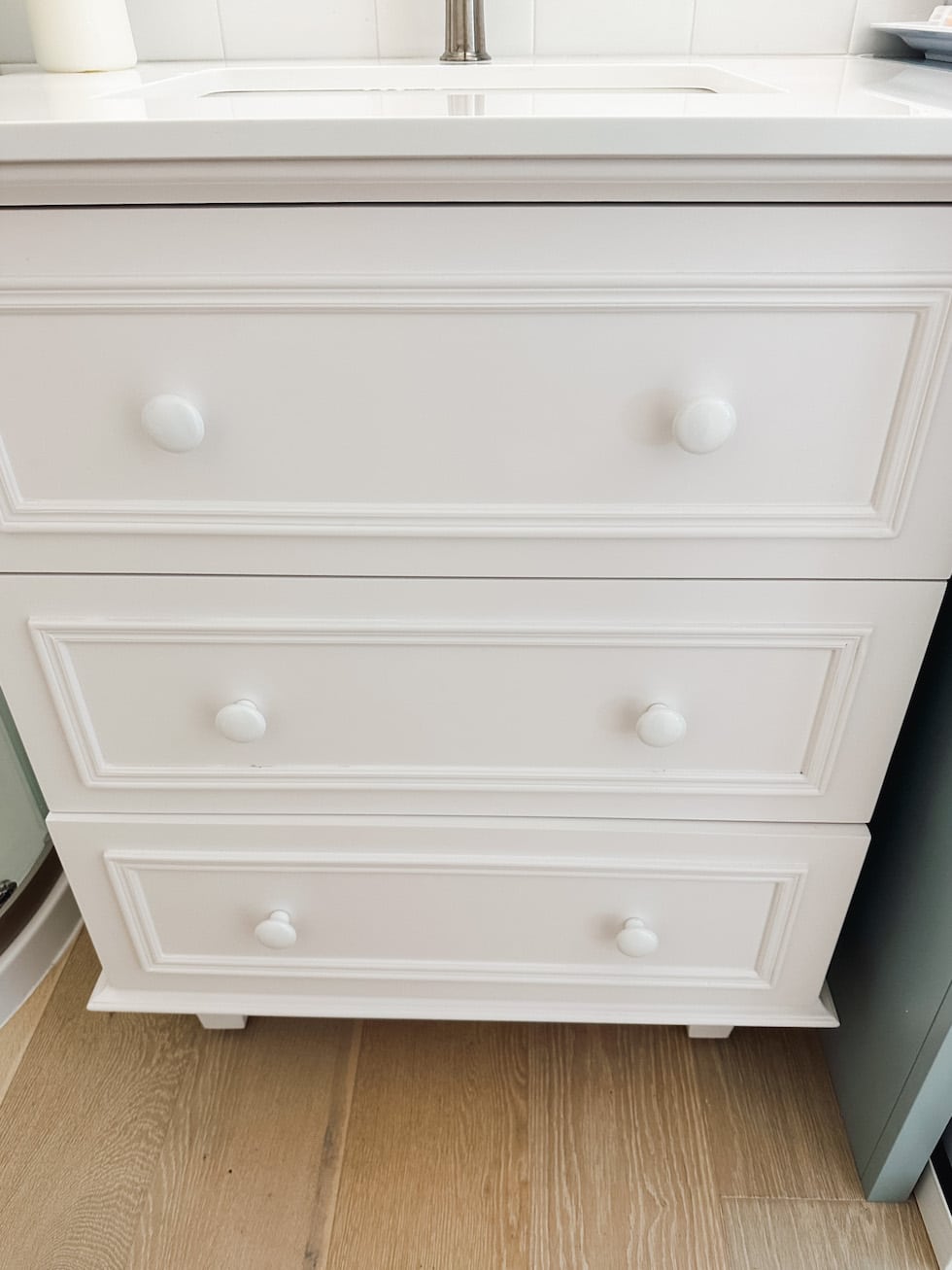 She replaced the dresser knobs with these white ceramic knobs, so cute! (Other photos in this post were taken before the knob switch!)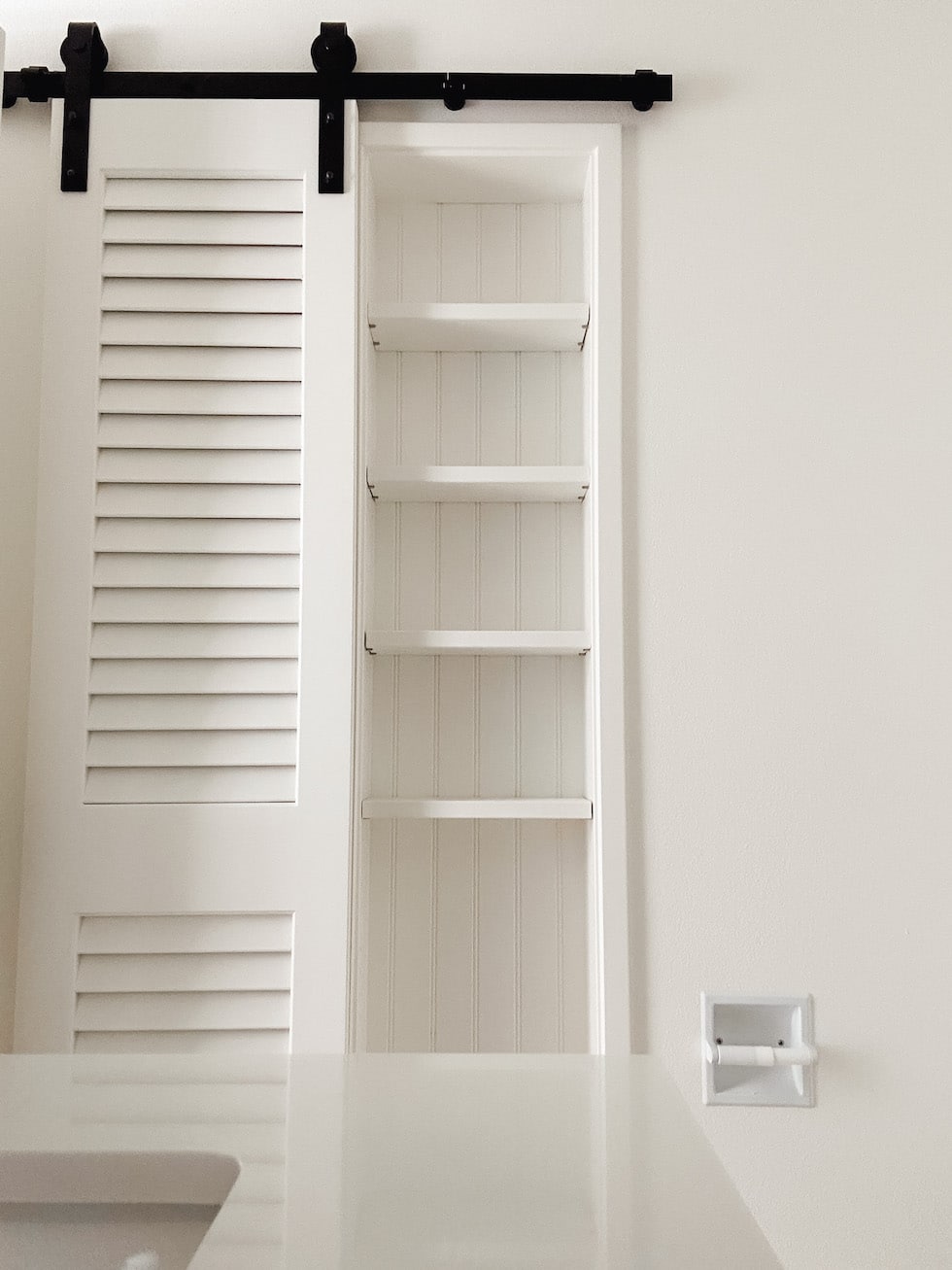 The corner bed was a little difficult to design in the space available, but with careful planning by my parents they had a comfortable place to sleep and a freestanding wardrobe to be added. SO CUTE!
Hope you enjoyed peeking at Tiny Cottage! I'll share more once they settle down.
Kitchen Source:
White Retro Range Veil
White Retro Fridge/Freezer
Copper Handles on Kitchen Cabinets
Copper Kitchen Knobs
Kitchen Undermount Bar Sink
White Ceramic Stove
Kitchen Blue Subway Tile (they got it here but there seems to be a better deal HERE)
Copper Wallpaper Towel Holder
White and Copper Espresso Machine
Toaster Oven with Air Fryer
Bathroom/Laundry Resources:
Bathroom Faucet in Brushed Nickel
Bathroom Garlic Lamp
Subway Tile in Bathroom (Ours is called Arctic White #0190 but there are similar colors)
Washer/Dryer Combo
White Cabinet Knobs
Toilet
Bathroom Exhaust Fan with Light and Heat
Bathroom Medicine Cabinet with Light and Defogger
Sitting Room and Bedroom Resources:
Chandelier (Antique White)
White Wood Bead Semi Flush Mount Chandelier
Fireplace: Jotul brand, Sky Blue color
Blue and White Checkered tiles in the cabinet (they got it here but apparently a better deal HERE).
Paint and Floor Colors:
Walls: Fairly White
Kitchen Cabinets: Languid Blue Sherwin Williams
Flooring: European White Oak (We got it locally through a flooring shop, unfortunately I couldn't get a link to it or find a brand name online to share it but it's European white oak, engineered wood! Feels matte and finished so has a nice relaxed/beach feel).
White Porch Lights (Dawn to Dusk) – this is their exterior entrance light not pictured in this post, you can see it here.
Find lots of Tiny Cottage resources in my Amazon folder HERE.
Check out all of our previous posts about the remodel HERE.
Read the whole story of how we decided to move into this house with my parents here!